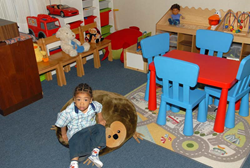 Ensuring that all the families in our community have access to emergency shelter is crucial in these trying times.
Roosevelt, NY (PRWEB) June 23, 2015
Local full-service insurance provider McNicholas Insurance Agency has announced a charity drive that will raise funds for Bethany House, a longstanding emergency shelter for young homeless women with young children.
Bethany House has been an integral part of the Roosevelt community for over a generation, providing much needed shelter, security, food, and critical services to thousands of homeless women and their children over the years. Initially little more than a small rented home, Bethany House has evolved into a large facility with 85 beds and a nurturing staff that assigns an individual caseworker to each arriving family. Bethany House reports that over 94% of clients find permanent housing after staying at the facility for 2 weeks.
"The Bethany House performs a vital service," says Peggy McNicholas, owner and operator of the McNicholas Insurance Agency. "Ensuring that all the families in our community have access to emergency shelter is crucial in these trying times."
McNicholas Insurance is spearheading a fund raising drive to support the continued efforts of the Bethany House, and is actively seeking donations from friends, neighbors, and business associates alike, and online social media efforts have found supporters throughout the state.
In addition to supporting the Bethany House, McNicholas Insurance Agency has committed to supporting more local charities in the months to come, and will seek out new causes every 30-60 days. Readers interested in supporting the Bethany House are encouraged to visit the McNicholas Insurance website and donate directly here. More information about the new and existing charities supported by McNicholas Insurance can be viewed on their community causes page here.
About McNicholas Insurance Agency
Serving from their office in New Hyde Park, NY, McNicholas Insurance Agency is committed to bringing local communities an insurance agency that understands their needs. Taking pride in its team of professionals, the McNicholas Insurance Agency works with carriers to assemble a variety of products and services for its customers. From all of the products a typical consumer needs (home, auto, boat, ATV, etc.,) to all financial services products and tools (retirement, savings, long term care, disability, etc.,) and business insurance (liability, building, auto) to workplace and individual benefits (accident, critical illness, cancer, disability, life), McNicholas Insurance Agency covers all the bases for insurance needs in New Hyde Park, NY.