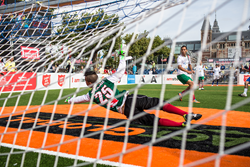 The Homeless World Cup has completely changed my life. It's very hard to explain what it is that the whole experience gives you. Something changes inside.
Aalten, Netherlands (PRWEB) September 20, 2015
For eight days, over 500 individuals of varying backgrounds, nationalities, ages and interests, came together in Amsterdam's Museumplein centre for the 13th Annual Homeless World Cup.
With a shared love of football, the participants gathered to play on the new 4G turf pitches, provided by synthetic turf sponsor Act Global and their installation partner Sallandse United. Thousands of fans, volunteers and media members from around the world joined in Amsterdam to welcome the players, and celebrate their perseverance and resiliency. In the end, Mexico claimed double victory, with both the men's and women's team coming out on top.
While the new pitches provided a durable, consistent and attractive playing surface, for these players they also symbolized a place of belonging. On the pitch, the playing ground is equal. Prejudices are left on the sidelines. Players build relationships, trust, responsibility, dedication and a sense of community.
"To have three brand new playing surfaces meant so much to the Homeless World Cup and to the players. For these individuals, the pitch is a place for them to feel empowered and part of a group, to have a place and a purpose," said Russell Smith, CMO of Homeless World Cup. "For many of these players, this is their spark for change."
According to the Homeless World Cup website, an estimated 100 million people are homeless worldwide, and as many as 1 billion lack access to suitable housing. A survey of Homeless World Cup players found that:

94% say the Homeless World Cup positively impacted their lives;
83% improved social relations with family and friends;
77% changed their lives significantly because of their involvement with football; and
71% continue to play the sport.
South Korea's Yoonbo Sung said, "Throughout this competition I have gained confidence. The Homeless World Cup has given me the confidence I need and I will be using this experience when I get home to continue to rebuild my life."
And the tournament will continue to impact players for years to come. Former Scotland Goalkeeper Toby McKillop who competed in Santiago 2014, had struggled with drug addiction for years, and found himself feeling desperate after having lost everything—his home, his partner, his family, and his daughter Molly. McKillop nearly lost his life, but following rehab, joined Street Soccer Scotland, and made his way to the Homeless World Cup in Chile.
"The Homeless World Cup has completely changed my life. It's very hard to explain what it is that the whole experience gives you. Something changes inside. The way you see yourself. You are positive. Everything is now a possibility for you and you know what's important in life. Life, now, is all about building my relationship with Molly. Everything I do now, staying clean and living life, I do it for Molly," said McKillop.
Act Global co-owners Chris Clapham and John Baize experienced the emotion of the games at Amsterdam's Museumplein first-hand.
"It's been a privilege to attend the Homeless World Cup, and witness the impact the event has on the players, fans and surrounding community," said Baize. "This event truly exemplifies the positive influence of playing sports and its ability to impact lives. We are proud of the players and honored to be a part of this fantastic event."
"We are a very passionate company. We care very passionately about the world and people around us," said Clapham. "And with that passion and enthusiasm, comes social responsibility. To help give these individuals a place to play, a place to belong, these are the most rewarding parts of our business."
ABOUT ACT GLOBAL
Act Global is a world leader in synthetic turf technology, with a full range of artificial turf for sports (Xtreme Turf), landscaping (Xtreme Lawn), aviation (AvTurf) and land reclamation (LiteEarth). Act Global is notable for currently being the first company in the world that is a FIFA Preferred Producer for Football Turf, Synthetic Turf Council Certified Manufacturer, World Rugby Preferred Turf Producer, and holds an ISO 9001 certification.
ABOUT HOMELESS WORLD CUP
The Homeless World Cup is on a mission to inspire life change through the power of football. The annual football tournament brings together teams from partner organizations from around the world in a celebration of their hard work and the personal transformations they enable. The event also brings the issues of homelessness and social exclusion onto a global stage, raising awareness and changing perceptions of homelessness. Ninety-four percent of past participants say that the event positively impacted their lives. Founded in 2001, the Homeless World Cup and its partners now span 74 countries, and has impacted the lives of 1 million homeless people worldwide.