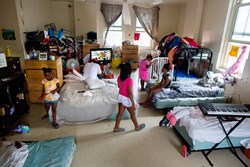 "The fact that there are 1.16 million homeless school kids is a shocking reminder of the severe shortage of affordable housing, and the consequences it has for kids," said Andre Shashaty, author of the book, Death of a Dream.
San Rafael, CA (PRWEB) January 27, 2014
Teams of government employees and volunteers are patrolling American cities during these cold winter days, scanning streets, parks and highway overpasses, and visiting soup kitchens with survey forms and clipboards. Their mission is to come up with a count of homeless people in America.
The only problem is that, except for the people directly involved in doing the count, which is operated by the U.S. Department of Housing and Urban Development (HUD), no one believes it will give the true extent of the problem, Several homeless service providers call it an outright fraud designed to win political points for the Obama Administration, according to the Partnership for Sustainable Communities.
It's easy to see why they are skeptical. Data from previous counts claims to show that, since the recession began in 2007, 61,846 homeless Americans have disappeared from our streets and homeless shelters.
HUD data shows homelessness has been declining steadily since 2007, with only a slight bump in 2010. In 2007, there were 671,888, according to HUD. In 2013, HUD said there were only 610,042 homeless people.
Even as foreclosures skyrocketed and employment and incomes tanked, HUD says homelessness declined. Despite the increases in apartment rents as the economy improved, the number of homeless people declined, HUD press releases tell us.
"The mystery deepens when one considers that another federal agency says homelessness has been increasing dramatically during the same time frame," said Andre Shashaty, president of the Partnership for Sustainable Communities, a national nonprofit group based in San Rafael, Calif.
"A total of 1,168,354 public and charter school students were homeless in the 2011-12 school year, according to the U.S. Department of Education (DE). When one adds in the parents of those kids, the total is closer to 1.6 million. If one counts younger siblings who are not of school age, it moves closer to 2 million, and some advocates think that is still an underestimate," he said.
"The DE figures are a shocking reminder of the severe shortage of decent affordable housing in our country, and the consequences it has for our children," said Shashaty, the author of the forthcoming book, Death of a Dream: The end of 50 years of progress for cities and the rise of the new American slum.
HUD said there were 222,197 homeless people in 70,960 families in 2013. It said 41,156 of those people were under 18. If you assume that 1/3 of those were not of school age, that equates to about 27,000 school age children who were homeless in roughly the same time period when DE found 1.17 million homeless school kids, Shashaty said. "In other words, DE found 41 times more homeless school kids than HUD did," He added.
While HUD says homelessness is decreasing, DE is finding substantial increases.
According to DE, the number of homeless children in public schools has increased 72 percent since the beginning of the recession. The 2011-12 data reflects a 10 percent increase from the 2010‐11 school year, when the total was 1,065,794.
Forty-three states reported increases in homeless students in the 2011-12 school year. The states with the largest numbers of homeless students were California, New York. Texas, and Florida.
Ten states reported increases of 20 percent or more in the number of homeless students that year. They are Idaho, Maine, Michigan, Missouri, North Carolina, North Dakota, Oklahoma, South Dakota, Vermont and Wyoming.
In Michigan, the number of homeless children enrolled in public schools almost tripled from 14,875 in 2008 to 42,536 in 2011. In New York City, there were 69,545 homeless students enrolled in public schools in 2011, a 93% increase from 2006.
Why such a huge discrepancy? Because HUD does not count people as homeless if they are sharing someone else's living quarters or living in a motel that is not paid for by a government agency, Shashaty said. Nor does it admit such people to the network of homeless shelters it operates unless they can prove their situation is temporary, not an easy task.
HUD only counts as homeless the people who were living in emergency shelters and those people who are "unsheltered," meaning they live on the streets, in parks, in cars or under freeways.
HUD conducts its "point-in-time" count of people without homes every year, during the last ten days of January, when the weather is the coldest.
DE counts homeless students every year, but with a much more meticulous methodology. It is required by law to see that every child gets a good education, even those with no stable place to call home. Every school district must have a staff person assigned to achieving that goal, and they must have a good count to show they are in compliance.
School districts count a student as homeless if he or she is "sharing the housing of other persons due to loss of housing, economic hardship, or a similar reason; are living in motels, hotels, trailer parks, or camping grounds; are living in emergency or transitional shelters; are abandoned in hospitals; or are awaiting foster care placement."
This definition reflects the fact that "doubling up" is not a stable living situation. It describes most families that don't have apartments with their name on the lease. Only the most desperate families go to shelters, since there are so few of them designed for families, and even fewer that are nor dirty, cramped or overcrowded. Obviously, sleeping outside is the very last resort.
Experts who are outside of HUD and not funded by HUD believe its count has little statistical validity as a way to measure changes in homelessness from year to year. They say it is completely irrelevant for looking at the impact of homelessness on families and children.
"The point-in-time numbers chosen by HUD run counter to what service providers and advocates witness in their communities," according to the Institute for Children, Poverty & Homelessness
Others put it more bluntly. "The HUD count is an absolutely shameful fraud," said Diane Nilan, founder and president of HEAR US a national nonprofit organization in Naperville, Ill., that is dedicated to bringing attention to the fate of homeless children and youth.
The Partnership for Sustainable communities is a national nonprofit organization based in San Rafael California. PSC depends on donations from individual to do its advocacy work for housing and community development. For information or to donate, go to http://www.p4sc.org.
NOTE TO EDITORS: Andre Shashaty is available for interviews. To schedule one, contact Carol Yee at 415 453 2100 x 302