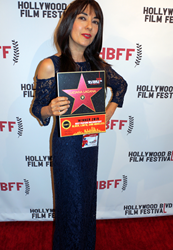 (David Roberts, director, Hollywood Blvd Film Festival) It is an incredible film that speaks for those who are silenced.
LOS ANGELES (PRWEB) June 18, 2019
At the 2019 Hollywood Blvd Film Festival, hosted in Hollywood on June 15 and 16, "Older, LGBTQ, and Homeless," a social impact feature documentary about the struggles faced by older LGBTQ members who are not able to afford housing in Los Angeles, received the Best Documentary Feature Award. CSUN Professor and filmmaker Dr. Luciana Lagana is the creator/director/producer of this anti-discrimination film. The festival received over 1,000 submissions, which were judged by established entertainment industry professionals such as film executives and producers.
From the festival's website--- We accept all genres of films across the globe. All the films will go through a review process by our highly qualified and experienced jury. Hollywood Blvd Film Festival (HBFF) is supported by International Motion Picture Association, a 501(c)(3) charitable non-profit organization. HBFF believes in inclusion and creating an environment where all different kinds of artists can thrive and succeed.
The full list of the 2019 winners can be found at https://www.hollywoodblvdfilmfestival.com/schedule.
Dr. Lagana's social impact documentary was selected as the closing night feature film of this festival, screening in the Charlie Chaplin theater of the Raleigh Studios in Hollywood. It covers the challenges encountered by several transgender older adults who, due to a complex series of circumstances, ended up becoming homeless. "Unfortunately, transgender older adults are often excluded from critical conversations covering issues such as potential strategies that could be implemented in order to foster increased acceptance of discriminated minorities," shared Dr. Lagana. To this end, she is conducting preliminary research at CSUN on whether viewing this film could improve empathy and reduce homophobia in randomized controlled trials.
This is the fourth win for this anti-discrimination feature documentary within the current film festival circuit. It also won best documentary feature at the Mindfield Film Festival in Albuquerque, NM, the California Film Award, and the Canada International Film Festival. Furthermore, it was an official selection at several festivals, including the Top Indie and the IndieFEST Film Awards as well as the Cutting Edge Film Festival.
Since 2014, Dr. Lagana has been the creator/director/producer of several films and series targeting critical social issues that are in need of receiving more attention in the media. Her social impact feature documentaries have received many film festival awards, and she has gathered awards such as best director of a feature documentary at the 2018 Shawna Shea Film Festival in Southbridge, Massachusetts for her homelessness-focused feature film "Off the Streets for Good."
One of the organizers of the Hollywood Blvd Film Festival disclosed that the jury unanimously voted that this film is "an eye opener." Moreover, it was the favorite film of the festival director, David Roberts, who shared that "it is an incredible film that speaks for those who are silenced."
The focus of "Older, LGBTQ, and Homeless" sparked a discussion initiated by the festival director and by some members of the audience of the well-attended post-screening Q&A session. "It was great to answer the questions of a large group of socially conscious individuals who gravitated towards this festival due, at least in part, to its focus on minorities. One of the questions was how to reconcile one's personal beliefs with the beliefs of the transgender stars of my film who reported that their gender identity and biological sex assigned at birth were at odds. This festival venue was an excellent and safe place where people holding different beliefs came together and started an insightful discussion of complex and controversial topics such as those covered in my film," concluded Dr. Lagana.
Dr. Luciana Lagana is a caring clinical and experimental psychologist, as well as an established professor of Psychology, Gerontology, Sexuality, and Women's Health at CSUN, where she teaches classes and mentors many undergraduate and graduate students from several departments. Moreover, since 2002, she has been conducting NIH-funded research at CSUN on ethnically diverse, mainly low-income older women's physical, psychological, social, and sexual health. She has accumulated 45 peer-reviewed publications and has delivered over 100 conference presentations. Prof. Lagana won the 2017 CSUN Exceptional Creative Accomplishments Faculty Award for her anti-bias feature films and shows, as well as the 2011 Preeminent Scholarly Publications Faculty Award and the 2008 Visionary Community Service Learning Faculty Award. Concerning her artistic pursuits, she studied acting and hosting in Los Angeles (in her teens, she was part of a touring theatrical company in Italy). Additionally, after studying film production in 2013 under the mentorship of Prof. Nate Thomas, Director of the Film Production Option in the CSUN Department of Cinema and Television Arts, she started producing several social impact films and series. She is an actor/screenwriter/director/producer with over 30 film festivals' wins listed on IMDb and more than 50 IMDb film, TV, and web series' credits. For instance, she created, hosted, and directed the award-winning educational project Dr. Luciana Show – Aging and Falling. She also won Best Director – Documentary at the 2018 Shawna Shea Film Festival.