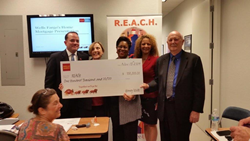 Reach out-we'll reach back
Palm Beach Gardens, Florida (PRWEB) October 27, 2015
The Board of Real Estate Education And Community Housing Inc. is pleased to announce the outcome of the November, 2014, Wells Fargo donation. At that time Wells Fargo and REACH committed to assist 10 families in fulfilling their housing needs. Wells Fargo delivered $100,000 to the Palm Beach Gardens office of REACH to make this dream a reality.
To date, REACH has been able to assist both Veteran buyers and low income homebuyers and renters into quality, rehabilitated housing through this needed donation.
REACH Executive Director, Patricia Tracey, stated that "without this generous support of our partners, specifically, Wells Fargo, we could not complete our mission of inspiring the low to moderate income members of the community toward homeownership"
REACH offers first time home buyer training in English, Spanish and Creole and has a 10 year history of assisting Palm Beach County residents in making their dreams of homeownership a reality.
For assistance with obtaining housing or preventing foreclosure, REACH is your HUD approved Community partner along with the help of generous sponsors like Wells Fargo. For additional information contact REACH at housing@reach4housing.org.
Wells Fargo & Company (NYSE: WFC) is a nationwide, diversified, community-based financial services company with $1.7 trillion in assets. Founded in 1852 and headquartered in San Francisco, Wells Fargo provides banking, insurance, investments, mortgage, and consumer and commercial finance through 8,700 locations, 12,800 ATMs, the internet (wellsfargo.com) and mobile banking, and has offices in 36 countries to support customers who conduct business in the global economy. With approximately 266,000 team members, Wells Fargo serves one in three households in the United States. Wells Fargo & Company was ranked No. 30 on Fortune's 2015 rankings of America's largest corporations. Wells Fargo's vision is to satisfy our customers' financial needs and help them succeed financially. Wells Fargo perspectives are also available at Wells Fargo Blogs and Wells Fargo Stories.