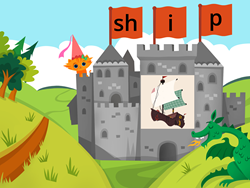 Dr. Susan B. Neuman, former US Assistant Secretary of Education, said of Homer, 'I am now convinced that certain skills can be taught - and taught more efficiently - through technology. The app worked, and it worked rather quickly.'
New York, NY (PRWEB) February 26, 2016
Stephanie Dua, Founder and CEO of Homer Learning, the children's media company behind the #1 Learn to Read program, announced today that the company would release its award-winning Learn to Read program on the iPhone, a development that will make it easier for millions of families to access the Learn to Read app that cultivates a love of reading in young children and was proven to increase early reading scores by up to 74% in a recent blind study.
Dua says of the company's mission to make the Learn to Read product available on the iPhone, "We created Homer to solve a confounding problem: teaching the world's children to read. We brought together the best research on what is proven to work and we deliver that using mobile technology. Homer is a disruptively affordable, simple-to-use, start-to-finish reading program that children can use without the help of an adult. And it is now available to anyone with an iPhone in their pocket."
Wanting to set a new standard, Dua and her team agreed early on to have Homer tested for efficacy by Dr. Susan B. Neuman, a leading literacy researcher and the former US. Assistant Secretary of Education. The results were stunning – kids working alone for just 15 minutes a day over 6 weeks nearly doubled their reading proficiency.
Recently mentioned in the 2015 book, "Tap, Click, Read: Growing Readers in a World of Screens" by Lisa Guernsey and Michael Levine, Homer has been held up by some of the country's top literacy experts as a rare example of a learn to read app that has been tested to ensure that it does what it says it can do: improve children's ability to read.
When asked to comment on the significance of her recent study evaluating the efficacy of Homer, Dr. Neuman said "I'm now convinced that there are certain skills that can be taught – and taught more efficiently — through technology. The app worked, and it worked rather quickly"
Homer is both effective and fun, providing a safe, nurturing environment in which children guide themselves through a step-by-step sequence to learn phonics, letter sounds, sight words, spelling and reading. A vast library of Read-to-Me audiobooks includes Aesop's fables, classic stories and fairytales as well as non-fiction content. With thousands of lessons in one place, Homer is in use by more than one million children globally.