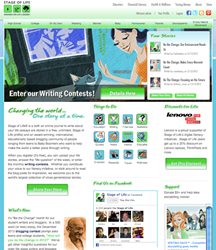 We have always wanted our literacy efforts and writing resources to appeal to students and educators of all sorts, and now we hope to broaden that appeal to homeschooling families.
York, PA (PRWEB) July 29, 2013
StageofLife.com, a student blogging website and literacy initiative, launched its newest educational resource last week – Homeschool Writing Resources. This new section of educational content was created to help families find innovative blogging resources for teens, and it stemmed from Stage of Life's growing population of homeschool users.
The new homeschooling resources offers a host of writing activities such as:
--National writing contests
--Goal setting worksheets
--Writing and blogging lesson plans for parents
--Twitter writing contests
--"Word of the Day" writing prompts - a daily vocabulary exercise in which the student writes a blog post or essay using the word of the day
--Recommended homeschooling resource websites
--Advice for parents looking to homeschool
The StageofLife.com blogging initiatives are designed with the mission to help teachers, and now parents, encourage students to write more outside of the classroom - whether that classroom is in a traditional public or private school setting or the home.
"We have always wanted our literacy efforts to appeal to students and educators of all sorts, and now we hope to broaden that appeal to homeschooling families," said Eric Thiegs, CEO and Founder of StageofLife.com.
During the 2012-2013 school year, StageofLife.com welcomed over 440,000 teens, college students, and educators to the website. This coming school year, the site is expecting to see over 600,000 student visitors, and is now ready to formally accommodate homeschooling families as the website grows its functions to become a one-stop-shop for writing resources.
Several of the website's High School Editors were home-schooled, including one of its current college interns, Nate DeRose, who said, "I wrote a lot throughout my homeschooling, but I was never given a way to publicly display my writing...I wish I would have known about StageofLife.com."
With hundreds of thousands of students visiting StageofLife.com, any submitted essay is guaranteed to be read by others. "I may have to dig out some of my old essays just to post them," added DeRose, "It's exciting to know your work is being read by others."
StageofLife.com's mission has been to create life-long readers and writers across all generations. It welcomes everyone, from teens to Baby Boomers, to share their life stories, and by offering the homeschooling community new writing opportunities, it hopes to see more teens and families entering its blogging contests and submitting stories about their lives.
The new homeschool writing resources can be found at http://www.stageoflife.com/education/HomeschoolingWritingResources.aspx
# # #
StageofLife.com is a privately held start-up company founded in 2009 by cousins and entrepreneurs, Eric and Joseph Thiegs.
As a free educational writing resource, StageofLife.com is home to nearly half a million teen and teacher visitors each school year, 5+ million uploaded words, and thousands of submitted essays. It is becoming the world's largest collection of multi-generational stories and resources tailored by life stage ranging from statistics to etiquette advice to coupons. The site's featured writing resources include writing contests, blogging tips, Language Arts lesson plans, goal setting worksheets, homeschool resources, writing prompts, and more.
You can reach StageofLife.com by contacting Founder and CEO, Eric Thiegs, via email at contact(at)stageoflife(dot)com.