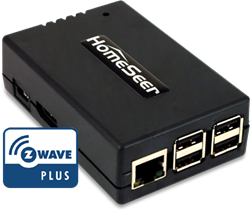 Bedford, NH (PRWEB) May 20, 2015
HomeSeer's new HomeTroller Zee S2 represents a significant upgrade of the company's popular Zee controller, first introduced in 2013. The new Zee S2 offers better performance, includes built-in Z-Wave Plus support and it works with a much larger selection of products and technologies.
As with all other HomeTrollers, the Zee S2 is embedded with HomeSeer's award winning HS3 home automation software. HS3 features a powerful automation engine and compatibility with a broad range of existing and emerging technologies from companies like IFTTT, Nest, Sonos, Philips and more.
HomeTroller Zee S2 is shipping now.
For more information, visit http://www.homeseer.com or contact the company at 603-471-2816. OEM and Dealer inquiries are welcome.
HomeSeer automation systems are designed to work seamlessly with industry standards and products from leading Z-Wave manufactures such as Cooper, Schlage, Kwikset, Baldwin, Yale, GE, Honeywell, Leviton, Linear, Everspring, Evolve, Fibaro, FortrezZ, Aeon Labs, RCS, Ecolink and many more.
HomeSeer Technologies, LLC is a leading provider of home control systems based in Bedford, New Hampshire. Its software and hardware controllers give installers and users the ability to integrate and automate everything in their homes, including lights, appliances, thermostats, door locks, security systems, audio/video, and media content. HomeSeer systems are IP enabled, allowing users remote access from anywhere in the world. Visit http://www.homeseer.com for more information.
# # #