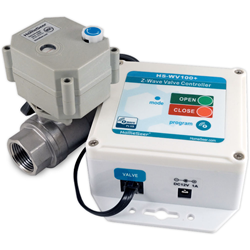 Bedford, NH (PRWEB) September 21, 2016
HomeSeer tackles the high cost of water damage protection with the release of its own affordable wireless water valve. The HS-WV100+ kit includes a Z-Wave Plus electronic control unit and motorized water valve, priced at about 1/2 the cost of other comparable solutions.
Water damage from leaky toilets, sinks, water heaters and clothes washers can cost thousands of dollars to repair. HS-WV100+ is designed to work with popular home automation controllers, smart hubs and water sensors to stop the flow of water when leaks are detected. The unit may also be used for a variety of other irrigation or water regulation needs.
HS-WV100+ starts shipping this week in 3/4" and 1" valve configurations. For more information, visit http://www.homeseer.com/water-valves or contact the company at 603-471-2816. Dealer inquiries are welcome.
HomeSeer automation products are designed to work seamlessly with industry standards and products from leading Z-Wave manufactures such as Eaton, GoControl, Schlage, Kwikset, Yale, GE, Honeywell, Leviton, Linear, Everspring, Global Cache, Evolve, Fibaro, FortrezZ, Aeon Labs, RCS, Ecolink and many more.
HomeSeer Technologies, LLC is a leading provider of home control systems based in Bedford, New Hampshire. Its home automation systems give installers and users the ability to integrate and automate everything in their homes, including lights, appliances, thermostats, door locks, security systems, audio/video, and media content.
HomeSeer systems leverage the power of the internet without being internet dependent. This provides the highest level of performance and reliability. Visit http://www.homeseer.com for more information.