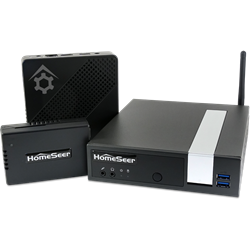 Today's smart home user demands easy to use, mobile friendly solutions. Our new hubs fill that bill and offer more features and integrations than ever before! -Rich Helmke, president & founder
BEDFORD, N.H. (PRWEB) August 24, 2020
HomeSeer continues its 21-year pursuit of smart home excellence with the release of 3 new smart home hubs. HomeTrollers Pi, Plus & PRO are powered by HS4 smart home software which features locally-managed (cloud-free) automation and includes several new features and integration options.
Chief among the improvements is an all new mobile-friendly interface that provides full system management from any device. Built-in support has also been added to view and record security cameras and an automatic backup function allows quick system recovery if needed.
Several free plugins have been released for easy integration with popular smart home products & technologies including Z-Wave, Zigbee, Philips Hue, Ecobee, Harmony Hub, Tuya, MyQ, Wemo, Rachio, LIFX and more. As with previous hubs, full support is also included for smart speakers, devices and cloud services from Amazon, Google and IFTTT.
HomeTroller Pi and PRO hubs are shipping now. HomeTroller Plus hubs will ship later this year. For more information on HomeTroller hubs, visit https://homeseer.com/home-controllers/
HomeSeer's free remote access service (MyHS) has also been enhanced to include paid "Premium" options for users who need unified control of multiple systems and users, or require more storage space for system backups and camera recordings. Learn more about MyHS Premium here: https://homeseer.com/myhs-premium/
HomeSeer Technologies, LLC is a leading provider of smart home systems based in Bedford, New Hampshire. Its smart home software and hubs allow users to integrate and automate everything in their homes, including lights, thermostats, sensors, door locks, security systems and much more. HomeSeer systems are locally managed for performance, reliability and security. Visit https://homeseer.com/ for more information.
# # #