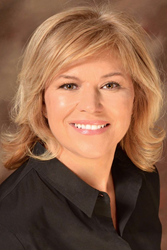 I encourage home buyers to be forward thinking in their choices, helping them become knowledgeable about the market,...so their homes will ultimately increase in value.
Montclair, NJ (PRWEB) February 19, 2015
After a banner year of matching families to beautiful Montclair, NJ, homes for sale, New Jersey real estate agent Laura Sulborski has joined the team at Keller Williams Realty-NJ Metro Group. A Columbia University graduate and former Wall Street Journal and PBS news producer, this New Jersey Realtor has a reputation for resourcefulness, business acumen and dedication to her clients. Sulborski has been chosen as one of New Jersey's Five Star Real Estate Agents for 2015 as well as receiving the New Jersey Association of REALTORS® Circle of Excellence Award® for 2014. Clients nominate Realtors for the Five Star Award, and the organization quantifies customer satisfaction to identify the winners, making this award the most objective way to identify those select group of New Jersey real estate agents who go beyond the call of duty for their clients.
"We have friends who have lost bid after bid, but we won our first time around!" says happy homeowner, H. Zusman, "That is because Laura is extremely responsive and helpful throughout the entire process."
Find the Right Realtor for a Competitive Market
Home prices increased nationally by single digit numbers in 2014, between 5-6%. In Montclair, Glen Ridge, Maplewood/South Orange, Chatham and other walkable neighborhoods with strong school systems, the pendulum swung toward a seller's market, with houses coming on the market and multiple bids ensuing at rapid pace. Sulborski drew on the resourcefulness she learned from years in journalism, her instincts for people, and her sharp negotiating skills to close deals in this low-inventory climate. She was one of the top producers of Sotheby's Intl. Realty (Montclair office) in 2013-14.
For one family from Manhattan, she searched for the perfect home (in the $1 million range) over the course of a year, touring scores of houses. The family dreamed of a residence with a leafy yard in a top NJ suburb with an urban sensibility, ideally one filled with young children. They wanted to move well before the start of the school year, when their daughter would start kindergarten. However, the right fit was slow to materialize. One day, Sulborski noticed extensive landscaping underway on a home on Montclair Avenue, just steps to Watchung Plaza (known for its stylish boutiques, gourmet Italian butcher, and amazing independent bookstore). She rang the doorbell to inquire about the owner's plans - and to let the owners know that should they be interested in selling, she had the perfect buyer. She recounts, "The rest is history - an incredible story for my client - filled with hidden treasure, the legacy of a home going back three generations, and a new friendship between the former and current owners."
Find a Realtor Who Makes You an Expert
A former journalist with a forthright, informative style, Sulborski believes realtors should be educators. "I encourage home buyers to be forward thinking in their choices, helping them to become knowledgeable about the market block by block, so their homes will ultimately increase in value," she explains, "The Montclair marketplace is competitive, but over time, it's a great investment." Her website, LivingInMontclair, is a valuable resource for buyers who want to learn about Montclair, NJ real estate and the diverse demographics of the town. Travel & Leisure has called Montclair, "a suburb that can legitimately call itself cool. . .home to many New York artists and a growing population of media professionals."
Sulborski has two young children in the Montclair public school system and supports Montclair's myriad cultural offerings. As such, Sulborski tells her clients the inside scoop on the life and culture of Montclair, from its magnet school system to its film festival to its restaurant scene. She's the Realtor who put the proprietors of Montclair's urbane and beloved Red Eye Cafe in their space in the Walnut Street foodie district, just up the street from the farmer's market.
Sulborski is knowledgeable about the market and school systems of coveted NJ suburbs throughout Essex County including Maplewood/South Orange, Millburn, Glen Ridge, West Orange, Verona and Bloomfield. Says E. Dimant, "Laura's extraordinary knowledge of the market, her vast array of references, and her willingness to help facilitate through every step of our buying process ensured that our experience was a pleasure." 
More About Laura Sulborski
Laura Sulborski is a member of the National Association of Realtors®, and the West Essex Board of Realtors® and serves on a committee which promotes literacy among young children. She also is a member of the Montclair International Film Festival's Education Committee. She is an active PTA member of the Nishuane Elementary School. Laura served as Head of Strategic Planning and a Board Member for the Montclair Cooperative School. She has worked extensively in global media communications, and as a TV news and lifestyle producer for PBS, CBS, ABC, BBC Worldwide, TLC, and the Wall Street Journal. She was awarded a Master's degree from Columbia University. Laura specializes in real estate throughout northern New Jersey. Her knowledge and experience offer unparalleled access to the market and resources to gain superior results for buyers and sellers. Call Laura at 917-596-3508 as your one stop resource for New Jersey real estate today. For more information, visit http://livinginmontclair.com.