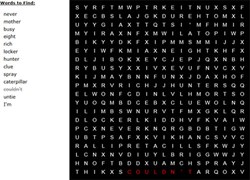 My son is learning a lot using your site and he has fun doing it.
Lincoln, Nebraska (PRWEB) January 13, 2014
HomeSpellingWords.com is excited to announce that it has been providing students with online spelling services for eight years. "It's been a lot of fun watching the site grow," says CEO Kimberly Arslan. The idea was born out of necessity. My own son loved computers, but disliked spelling. I started to try to think of a way to have the computer help him practice. It seemed like a simple idea.
Creating an online spelling website was easier said than done. Finding a way, in 2006, to create sound files for spelling words without recording each variation of a word required a little research and some creative programming. Luckily, a solution was found and visitors were able to create spelling lists that could be practiced immediately.
The website started out bare bones, but quickly grew. Now, HomeSpellingWords.com offers grade appropriate lists, free family accounts and custom list creation. Any word or sentence can be added to the site including plurals, possessives, apostrophes and more. Additionally, games can be played with the student's actual spelling words.
"We are celebrating this year by providing more services than ever before," says lead programmer Tony. We have added printable Kindergarten worksheets, an additional server, and higher connection speeds. We also have a number of really fun spelling games in the works. One game involves a mouse in a maze. Spelling the words right wins the mouse a delicious piece of cheese. Another game in development is SpellDunker where you spell the word right to dunk the person on the ledge.
Keeping the site free has been a focus of the team as well. Donations and ad revenue fuel all of our growth. We are a family owned business that takes pride in offering a truly useful program for all of our loyal visitors. Thousands of students from around the world study spelling online every month with the help of HomeSpellingWords.com.