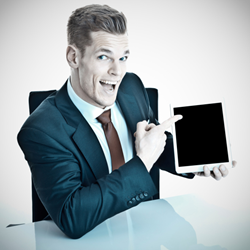 Knowing how to improve your skills in sales is an important part of becoming a more successful salesman.
Everett, WA (PRWEB) January 15, 2015
Hometown Values agrees that being a salesman can be a daunting and difficult task. In their latest article however, they offer up 5 tips that can help salesmen break out of poor sales habits and become more proficient and effective in their work.
The article begins by recognizing the responsibility of the salesman. "You make the first impression, and you can either spend the rest of your time reconstructing that impression or building upon it," the article warns.
In their first tip, Hometown Values emphasizes the importance of businessmen knowing what they are selling. The article says, "Solidifying your understanding of the purpose, process, and effect of your product or service will help you know how to meet the needs of your clients."
The article goes on to encourage salesmen to perfect their presentation. They say, "As we mentioned earlier, everyone makes a first impression. You want yours to be a good one." The article dives into several different ways, that salesmen can make a good impression, using both scripted and unscripted dialogue.
The fourth tip offered by Hometown Values is for salesmen to demonstrate credibility to their clients by being honest. "There will be many times when clients will ask you questions you don't know the answers too." Instead of guessing at the answer, the article offers a better alternative that will help salesmen protect their credibility.
For more information on how Hometown Values trains and equips young salesmen with the skills they need to succeed, visit their website at http://www.myhometownvalues.com.
About Hometown Values Coupons:
Hometown Values is designed to connect local businesses with local consumers and offer them money saving offers to connect in business. The magazine provides an abundance of coupons for many products and services for big savings and the new mobile apps make savings easy for on the go.
http://www.myhometownvalues.com
For advertising questions, email: jim@myhometownvalues.com