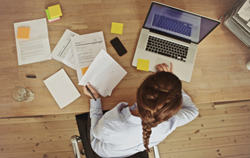 Hometown Values can help aspiring entrepreneurs learn fundamental business skills to equip them to manage their businesses well.
Seattle, WA (PRWEB) November 17, 2014
Hometown Values works to help their employees become more effective salesmen and to teach them essential business skills. In their most recent article, Hometown Values seeks to further equip hopeful entrepreneurs with 7 tips to help them succeed.
"For those that are interested in starting their own business, Hometown Values can help you learn fundamental business skills that will equip you to manage your business well," the article says.
Their first tip for aspiring entrepreneurs is to pick a line of work they actually enjoy. The article states that, "The tough times and difficult decisions you will have to face will only be intensified by how much you dislike your work."
The article recommends that potential business owners spend time learning more about how to run a business before they get started. Jumping straight into a business venture before the entrepreneur has the necessary skills to do the job will greatly inhibit success.
According to the article, Hometown Values offers beneficial training opportunities that can help aspiring entrepreneurs understand how to success in a sales environment.
The article also points out the fact that a critical part of running a business is managing finances. Hometown Values' fifth tip is to learn to manage money. They warn potential business owners that, "When you're just starting up, the money that you may have spent years saving can vanish very quickly. Keeping track of your accounts, spending, and bookkeeping is a vital part of sustaining your business."
Hometown Values' final warning to hopeful business owners is to not get overconfident. "The sheer number of factors you can't control, such as your market, customers, or the economy should always provoke a sense of caution when making big decisions," the article warns.
To learn more about Hometown Values and the direct mail business opportunity they provide, visit http://www.myhometownvalues.com.
About Hometown Values Coupons:
Hometown Values is designed to connect local businesses with local consumers and offer them money saving offers to connect in business. The magazine provides an abundance of coupons for many products and services for big savings and the new mobile apps make savings easy for on the go.
http://www.myhometownvalues.com
For advertising questions, email: jim(at)myhometownvalues.com