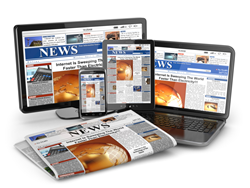 Social media and print media, while seemingly entirely disparate forms of marketing, can actually work together to create more effective marketing strategies.
Seattle, WA (PRWEB) March 18, 2015
Some marketing managers find it difficult to keep up with every kind of marketing platform available. Combining print and social media marketing can help to eliminate some of the extra work while making each area more powerful. In their latest article, Hometown Values lists 5 specific techniques marketers can use to combine and strengthen their print and social media marketing strategies.
One of the ways combining print and social media strategies can be helpful is to assist in determining a business' target audience. The article says, "By analyzing the type, size, and personality of the following that your brand has over social media, your marketing team can see what kinds of people tend to gravitate toward your product or services."
While social media can help the productivity of a business' printed media, printed media can help increase the amount of traffic flow a business' social media platforms get. The article discusses some various traits that must exist in printed media for it to successfully direct users to a business' website or social media pages, the most important of which is simplicity. The easier it is for users to access the business online, the more will do so.
Hometown Values offers businesses an opportunity to increase their brand familiarity through their printed advertisements. By combining their social media efforts with this printed media opportunity, businesses have the opportunity to enjoy more visibility and more interest in their brand. To learn more about Hometown Values and this unique marketing opportunity, visit their website at http://www.myhometownvalues.com.
About Hometown Values Coupons:
Hometown Values is designed to connect local businesses with local consumers and offer them money saving offers to connect in business. The magazine provides an abundance of coupons for many products and services for big savings and the new mobile apps make savings easy for on the go.
http://www.myhometownvalues.com
For advertising questions, email: jim(AT)myhometownvalues.com