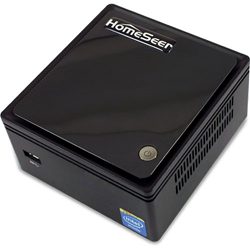 Bedford, NH (PRWEB) September 26, 2014
HomeSeer's new HomeTroller-SEL is faster and less expensive than previous "SE" series home automation controllers. As with all HomeSeer systems, HomeTroller-SEL may be accessed remotely via the cloud but information is always stored locally for safety and reliability.
HomeTroller-SEL is compatible with virtually all popular home automation products including light switches, thermostats, door locks, garage door openers, surveillance cameras, water valves, audio-video controllers and sensors.
HomeTroller-SEL is slated to begin shipping October 1st and will retail for $399.95. A PRO version will also be available.
For more information, visit http://www.homeseer.com or contact the company at 603-471-2816. OEM and Dealer inquiries are welcome.
HomeSeer automation systems are designed to work seamlessly with industry standards and products from leading Z-Wave manufactures such as Cooper, Schlage, Kwikset, Baldwin, Yale, GE, Honeywell, Leviton, Linear, Everspring, Evolve, Fibaro, FortrezZ, Aeon Labs, RCS, Ecolink and many more.
HomeSeer Technologies, LLC is a leading provider of home control systems based in Bedford, New Hampshire. Its software and hardware controllers give installers and users the ability to integrate and automate everything in their homes, including lights, appliances, thermostats, door locks, security systems, audio/video, and media content. HomeSeer systems are IP enabled, allowing users remote access from anywhere in the world. Visit http://www.homeseer.com for more information.
# # #