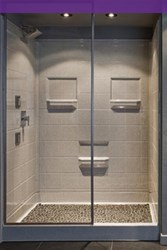 As people become more confident with their decisions to buy and sell the economy will continue to improve and that's very good news for companies like ourselves in the home improvement market
Cincinnati, Ohio (PRWEB) October 21, 2013
The third quarter Zillow Real Estate Market Report shows the U.S. Zillow Home Value Index standing at $163,000 as of the end of the third quarter. This is a good pace for the market and good for home repairs and home improvements says Jim Hunter CEO of National Remodeling Company House Doctors.
The Report shows the home value index up by 6.4 percent year-over-year and up 1.2 percent from the end of the second quarter, but unchanged from August. However this new pace of home value appreciation has brought a number of markets back from the edge of entering possible bubble territory again.
Jim Hunter President of National Remodeling Company House Doctors explained, "A steady annual sustained growth is what we want. People get nervous quickly now if we grow too fast. It may seem strange to say but sometimes its better if the pace of home value growth in some markets slows down. But remember what happened when increasing home values got out of control before."
Zillow Digs data shows some markets like California for example have already touched on the edge of bubble market territory again and expensive metro areas that experienced relatively modest declines during the crash have already shown very robust gains during the recovery. Across the country as recently as July, all of the top 30 metro areas showed positive monthly appreciation, with none exhibiting a monthly pace slower than one percent month-over-month.
Hunter continued, "People need to feel that we can sustain our growth. Confidence effects our economy more than some realize. It certainly effects the level of activity in the home improvement market. When people feel things are heading in the right direction they spend more on home remodeling projects." Hunter continued, " I believe we have come off the bottom and are at a sustainable level of growth in home values that should now continue for sometime. As people become more confident with their decisions to buy and sell the economy will continue to improve and that's very good news for companies like ourselves in the home improvement market."
About House Doctors:
For more than 15 years, House Doctors, a 90-plus-unit professional handyman service, has brought commercial property owners and homeowners high standards of customer service, reliability, and quality workmanship. Every House Doctors handyman location is independently owned and operated. Today, House Doctors continues to expand throughout the United States by offering franchise opportunities. For more information on House Doctors, visit http://www.housedoctors.com.