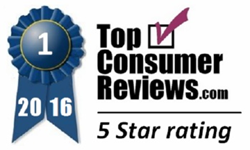 Khan Academy is known around the world for helping millions of students to improve in school... (they are) our top-rated choice for Homework Help Services.
Overland Park, KS (PRWEB) August 17, 2016
TopConsumerReviews.com recently gave their highest rating to Khan Academy, an industry leader among providers of Homework Help Services.
From elementary school children trying to master Common Core math, to college students struggling with Organic Chemistry, students often have trouble with completing homework assignments. When teachers and other resources are unavailable, many students and their families are turning to Homework Help Services to get through challenging assignments and other school projects. From one-on-one tutoring, to searchable banks of essays, these homework services can make the difference between a failing grade and an A.
"Khan Academy is known around the world for helping millions of students to improve in school," explained Brian Dolezal, of TopConsumerReviews.com, LLC. "While their primary focus is mathematics, from basic early math problems like 1+1 through college math such as calculus, Khan Academy's available subjects include Physics, Grammar, History, Computer Programming, and many others. Students can work through practice problems, watch help videos that demonstrate problem areas step-by-step, and ask other members of the community for input with a tricky question. Better yet, Khan Academy promises to be free for all students, forever, as part of their commitment to providing 'a free world-class education. With an always-expanding array of subjects across all levels of the education spectrum, Khan Academy is our top-rated choice for Homework Help Services."
To find out more about Khan Academy and other online providers of Homework Help Services, including reviews and comparison ratings, please visit the Homework Help Services category of TopConsumerReviews.com at http://www.topconsumerreviews.com/homework-help/.
About Khan Academy
Khan Academy is a 501(c)3 nonprofit with a mission to change education for the better by providing a free, world-class education for anyone, anywhere. They believe that students of all ages should have free, unlimited access to the best educational content, and that they should be able to consume and master this content at their own pace. In addition, they believe that there are incredible opportunities to use intelligent software development, deep data analytics, and intuitive user interfaces to more effectively present these educational resources to students and teachers around the world. To date, Khan Academy has delivered over 700 million lessons and nearly 5 billion practice problems
About TopConsumerReviews.com
TopConsumerReviews.com, LLC is a leading provider of independent reviews and rankings of hundreds of consumer products and services. From Homework Help to Nanny Agencies and CPA Reviews, TopConsumerReviews.com delivers in-depth product evaluations in order to make purchasing decisions easier.