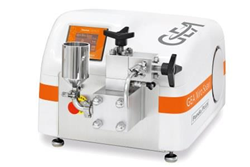 Bedford, NH (PRWEB) January 22, 2015
GEA Niro Soavi the leader in high pressure homogenization, offers a table top laboratory homogenizer, the PandaPLUS 2000, which is ideal for new applications for processing nanoparticles, nanodispersions, nanoemulsions, and cell disruption. This compact laboratory homogenizer is the perfect solution for processing dairy products, fruit juices, liquid food, food additives and ingredients as well as for the micronization of liquid pharmaceuticals, cosmetics and chemical products.
Laboratory scale and pilot scale can models can operate from 0 to 2000 bar, even with limited sample volumes, and achieves the same results as larger models. This is how the shift from lab testing to industrial production gets easier with the guarantee of total scalability of results.
The compact design of PandaPLUS 2000 offers an easy installation, use and maintenance. Due to a special material selection and liquid end design, it is suitable for abrasive and viscous products and offers reliable use of high pressure energy for new production process development and optimized product formulation. In its standard configuration, it features a touch panel for easy control of all machine functions.
About GEA Niro Soavi
GEA Niro Soavi is the global technology and market leader for high pressure pumps and homogenizers. Established in 1947 and part of the GEA Group – one of the leading engineering companies worldwide – GEA Niro Soavi maintains its leadership position through product innovation, reliability and local presence in order to satisfy customer expectations.