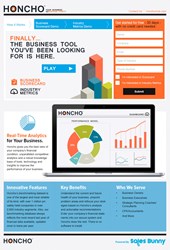 The HONCHO Business Scorecard and Industry Metrics have become a part of our daily and monthly business processes.
Pittsburgh, PA (PRWEB) October 23, 2013
HONCHO helps CEOs and their advisors quickly and easily grasp the current and future health of their business with a full overview of Key Performance Indicators (KPI's) in liquidity, profitability and asset efficiency. Regardless of a company's size or industry, Honcho provides the knowledge needed to keep businesses on the path to success. But Honcho's greatest value can be had by founders or managers of small businesses who may not have the experience or time to crunch numbers and interpret their meaning.
Two different tools give the user highly sought-after, but often difficult to find, information.
Honcho's Industry Metrics provides intelligence on over 1 million privately-held companies in over 2,600 industry categories, creating a robust set of metrics ideal for analyzing trends. The user determines how to filter the information: by company size, geography and/or other characteristics. The result is a specific and highly relevant set of data that a business owner can immediately put to good use.
Honcho's Business Scorecard helps benchmark and analyze a business based on real numbers. The Scorecard gives an accurate and up to the minute snapshot of company performance that can be measured against peers and competitors. Because of its attractive, user-friendly, graphical interface, Honcho's Business Scorecard becomes a powerful tool for planning strategy and decision making. Even the most number-phobic CEO will appreciate the instantly understandable charts and measuring systems.
The system interfaces with Quickbooks™ or information can be quickly and easily manually entered as well. And the best part for small business - it's very affordable, starting with free for the first 30 days.