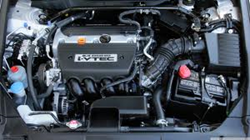 All 1.5 motors that we're now distributing to buyers are part of the JDM network of inventory that is promoted in the U.S. for reduced sale prices
Seattle, WA (PRWEB) February 06, 2014
Sales of import vehicle engines have helped some secondary market sellers to expand into different markets over the past decade online. The Got Engines company is one example of agencies now benefitting from offering foreign built engines for sale. This company is now selling Honda 1.5 engine units from its website at
http://www.gotengines.com/blog/honda-engines/honda-15-engine.
These VTEC editions are currently added to help please researchers unable to find compatible Honda engines through offline resources. The new adjustments made this year to supply companies in North America has broadened the types of motors that are now available for import sales. The GotEngines.com company website now features a complete Honda section for buyers.
"All 1.5 motors that we're now distributing to buyers are part of the JDM network of inventory that is promoted in the U.S. for reduced sale prices," said one GotEngines.com company source.
The VTEC editions of the 1.5 Honda engines now for sale online are one new inclusion of the available import inventory for 2014. The traditional motors not featuring variable valve timing are also featured in the import inventory created for buyers over the past 12 months. Automakers like Mitsubishi and Nissan are now included in the marketed automaker inventories online.
"Buying used auto engines from American dealers is relatively easy for some buyers although import engines can be harder to locate for the right price," said the source.
The GotEngines.com company website is now configured for easier use by engine researchers online. Aside from specially created sections for import motors, a new way to find available warehouse inventory is now present online.
The automated research program that was launched this year now distributes Honda engine pricing and other automaker brands that are marketed nationally for sale. The customer service line at 1-866-320-1065 is now an optional source of contact to locate exact in stock engine pricing.
About GotEngines.com
The GotEngines.com company is one leading resource online providing affordable motor vehicle engine replacements 365 days a year. This company continues to supply affordable prices and warranty programs for each engine that is marketed to the public in the United States. The GotEngines.com company website is one resource that offers online price quotations, detail pages and direct access to support specialists. The engine pricing that this company provides to the public continues to offer a discount source for any buyer regardless of their U.S. location.