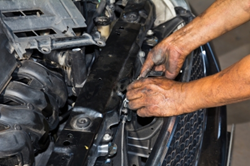 The FF vehicle platform was a short-lived design that did provide 150 horsepower motors like the F23A1 series in the U.S. market
Tampa, FL (PRWEB) April 11, 2015
The 1998 to 2002 production of the Honda Accord showcased the 2.3-liter 4-cylinder motor block to a global audience. A cost-effective way to replace this infamous motor series is now provided by the Car Parts Locator company online. The Honda Accord 2.3L VTEC F23A1 motor is now offered for sale in used condition at http://www.carpartslocator.com/honda-accord-2-3-engine-vtec-f23a1.
The blocks offered for sale are part of the F-series import motors that were produced by Honda that featured the VTEC timing technology. The trim models of DX, EX and LX are now supported through the CPL inventory of replacement I4 Honda motors that are offered for consumer sale this year. This mid-size vehicle engine inventory includes full warranty packages for buyers.
"The FF vehicle platform was a short-lived design that did provide 150 horsepower motors like the F23A1 series in the U.S. market," said one CarPartsLocator.com source.
A motorist or mechanic who buys replacement vehicle components will be able to obtain the 2.3L I4 motors now for sale at a special discount price. Aside from the support for JDM and import motors this year, the CPL website is also supplying a complete inventory of interior and exterior components that are OEM replacements for Honda and similar foreign vehicles.
"The Honda and Acura brands are widely supported inside of our expanded second hand inventory to benefit all purchasers of imported automotive components," the source included.
The Car Parts Locator company has increased its warranty coverage plans that are offered with every vehicle component purchased in 2015. The broad range of auto salvage companies that provide national fulfillment has helped to arrange better terms of coverage for any used component that is purchased on the web or by phone.
About CarPartsLocator.com
The CarPartsLocator.com company helps average automobile owners to locate vehicle components and OEM accessories that are preowned condition. The company has opened its nationwide database of auto salvage suppliers to consumers. The CarPartsLocator.com company offers full support for users of its website who want to complete a purchase for any import or domestic components available for sale.