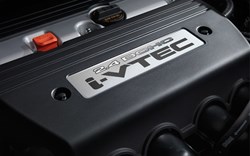 Honda is one of our top selling engine brands and we're now supporting the early VTEC editions used in the Civic and Inegra vehicles.
Sandusky, Ohio (PRWEB) August 23, 2013
Honda engine development has remained consistent with each production year based on the discovery of newer technologies. The VTEC builds produced for the Civic are regarded as some of the most popular editions used. The http://www.gotengines.com company now sells used Honda Civic SI VTEC engines from its warehouse inventory listed online.
These original builds have been acquired through relationships that now exist for supplying low mileage imported motors for U.S. customers.
The Honda builds that are currently marketed online have joined the existing engine types for import vehicles that have been marketed by the Got Engines company for more than a decade.
"Honda is one of our top selling engine brands and we're now supporting the early VTEC editions used in the Civic and Inegra vehicles," a rep for the GotEngines.com website confirmed.
These changes have supplied this company with better inventory and lower price points for customers.
The B engine technologies that first introduced the VTEC technology in Honda vehicles remain in use for specific vehicle brands. The performance nature of Honda vehicles has mixed well with this technology and is partly the reason for the increase in demand for the North American market.
"Low pricing is already established for our engines in stock and we're now coupling these price points with a better warranty," the rep added.
All imported motors from foreign automakers that exist inside the company inventory for sale are now eligible for the warranty policies that are currently in place for customer sales.
The database for price quotes generation online lists information about warranties, pricing and the no charge shipment terms that are currently in effect. There are no usage restrictions for consumers who use this database to lookup multiple engines daily from the company website.
About GotEngines.com
The GotEngines.com company retails import and American made engines directly from its website online. Thousands of consumers access this resource daily to find the best deals on engines and related accessories for automotive repairs. The company database holds hundreds of engine types that are marketed to the public. The GotEngines.com company was one of the first retailers to sell used motors online as a secondary seller. This company is staffed by specialists who monitor a toll-free number for consumer questions and shipment information each day. The limited warranty policies created by this company help protect all engines that are for sale.