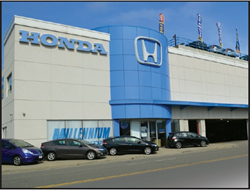 Hempstead, NY (PRWEB) July 29, 2014
Millennium Honda is offering Long Island a huge Summer Clearance Event. Vehicles are going to be sold for thousands of dollars less than normal for the rest of July. All vehicles can be sold with $0 down payment. Millennium Honda's general manager, Ravel Mejia, has agreed to sell all brand new Hondas in inventory at clearance prices.
"This clearance event is the biggest of the year for us," said Mejia. "We have customers who wait for this sale to begin to purchase or lease a car from Millennium just because of the huge discounts it brings."
Some of the incentives offered will be 0.9 percent APR Financing with additional programs for loyalty owners and owners who drive most non-Honda models. Millennium Honda is in need of trade-ins and will offer up to $2,500 over book value for a trade.
Millennium Honda intends to move its entire inventory by offering deals that could potentially save customers thousands of dollars. This Clearance Event will be held from 9 a.m. – 9 p.m. from Friday, July 25 through Thursday, July 31.
There will also be top-quality pre-driven vehicles as well as certified pre-owned Hondas available during this event. Millennium Honda has fresh trade-ins, lease return vehicles as well as program vehicles.
"We are willing to take drastic measures to reduce our inventory," said Chris Tedesco, pre-owned manager. "Profit is not a consideration."
Now is the time for consumers to take advantage of prices they may never see again on a huge inventory of high quality pre-owned vehicles. As part of Long Island's largest automotive group, NY Autogiant, Millennium Honda alone has over 1,000 brand new Hondas in stock and ready for immediate delivery.
"For these seven days, all Hondas will be competitively priced. All models, all colors and a huge selection. We're targeted on keeping our customers happy and want to continue the success of our yearly Summer Clearance Event," said Mejia.
When asked what the key to their continued success was, Mejia remarked, "It's our commitment to providing better selection, better service and better prices. But that's just the beginning of the Millennium Honda Difference. Other Millennium Honda benefits include car washes and shuttle service."
This may be the best time to purchase or lease a new Honda or pre-owned vehicle from Millennium Honda. This Summer Clearance Event will end at 9 p.m. sharp on Thursday, July 31.
About the company:
Serving New York communities, Millennium Honda makes each customer their first priority. Their satisfaction is at the top of their short list of goals. This is why their Honda dealership, serving Oceanside, Rockville, Baldwin and Levittown, carries new and used Honda models. What's more, Millennium Honda's commitment to customer satisfaction transcends the day customers sign for their new car loan or Honda lease. Take their service center, for example. Known for consistent, do-it-right-the-first-time service, it's here for all customers' routine maintenance and car repair needs. They also have a parts store with everything from Honda brakes to oil filters, rotors and axles. Their knowledgeable staff will even help customers figure out which parts they need. Millennium Honda is here for all of their customers' automotive needs.