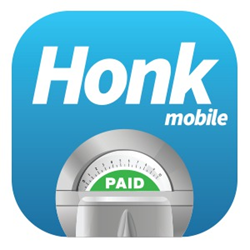 Toronto, ON (PRWEB) October 22, 2014
HonkMobile Founder and CEO Michael Back will face off with celebrated business tycoons Arlene Dickinson, Jim Treliving, David Chilton, Michael Wekerle and Vikram Vij on CBC's hit television show Dragons' Den. The segment will air on CBC Television Wed. Oct. 29 at 8 p.m. / 8:30 p.m. NL.
"I am very excited to introduce HonkMobile to a national audience," Back commented. "Parking technology hasn't progressed much in the last 20 years and we are changing that."
"By trading parking meters and pay stations for mobile technology, the parking experience can be vastly improved for both users and parking operators," said Back. "With HonkMobile, transactions occur in seconds, not minutes. There is no more walking to the meter or waiting in line. Users simply park, pay and are on their way. We notify users when their time is expiring, allow them to buy more time from wherever they are. We also protect the environment by eliminating paper receipts and tickets."
Back started HonkMobile in 2013 after selling his previous entrepreneurial success, Collective Point of Sale Solutions, to Elavon, Inc., a subsidiary of U.S. Bancorp. "While I obviously can't say the outcome, my pitch will be aired on the season's third show Oct. 29 and you'll have to tune in to find out.
About HonkMobile
HonkMobile (http://www.honkmobile.com), a leading cloud-based parking and payment solutions provider, offers mobile payments for on and off-street parking, digital parking permits and mobile access control for gated environments. HonkMobile makes parking more convenient for users and allows parking providers to manage parking operations more effectively and efficiently. HonkMobile can be downloaded for free from both the App Store and Google Play.