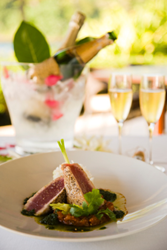 Ambassador Hotel Waikiki is one of the Honolulu Hotels preparing to welcome guests who come to the Island to enjoy top Oahu Events in September.
Honolulu, HI (PRWEB) August 24, 2015
Ambassador Hotel Waikiki is one of the Honolulu Hotels preparing to welcome guests who come to the Island to enjoy top Oahu Events in September. One of these Events, the Aloha Festival, brings Hawaiian residents from other Islands as well as visitors from around the world. Ambassador Hotel has impressive special offers to welcome guests to these and other popular Events in Oahu. View offer details >
Hawaiian Food and Wine Festival
August 29 through September 13, 2015
Address: locations throughout the Hawaiian Islands
Tel: 808.738.6245
The Hawaiian Food and Wine Festival takes place throughout Hawaii. Consider visiting other Hawaiian Islands to attend some of these Events during your stay at a Honolulu Hotel. The 8-day Oahu Event includes dinners, food and wine tastings, cooking demonstrations, and much more. It's a wonderful chance to taste creations of local chefs while learning about Hawaiian cuisine. A full schedule of Hawaiian Food and Wine Festival activities is available on the event website.
The Okinawan Festival
September 5 through September 6, 2015
Kapiolani Park, Waikiki, Hawaii
Tel: 808.676.5400
Oahu is quite well known for hosting a number of cultural happenings. The Okinawan Festival is one such Oahu Event that gives attendees the chance to learn about Japanese culture. Attendees will see cultural dances, try authentic Japanese cuisine, see an Okinawan drumming performance, and more. Activities for the kids, music, and other features make the Okinawan Festival a favorite with both locals and visitors.
Aloha Festival
Events throughout the Month
The Aloha Festival is one of the biggest Oahu Events of the year. It's not just one event, but rather it includes several events that take place throughout the month of September. The kickoff is on September 5th when the royal court is announced and the opening ceremony takes place. One of the highlights of the Aloha Festival is the Waikiki Hoolaulea. This is billed as the "largest block party in Hawaii." Thousands of people come to enjoy the live music, fabulous food, and activities for all ages. The Floral Parade is another Aloha Festival event that is a favorite with attendees. Beautiful floats covered in local flowers join marching bands, hula dancers, and other parade participants.
Those planning a September visit to Oahu can read more about these and other events in the Ambassador Hotel's Oahu Events Guide.
About Ambassador Hotel – A Honolulu Hotel:
This Oahu hotel offers 300 well-appointed guest rooms located in the heart of Waikiki and just 9 miles from Honolulu Airport. The Waikiki Hotel boasts the best rates in Waikiki, yet the location is extremely desirable. Guests who choose Ambassador Hotel stay just steps from some of the top Honolulu attractions, Oahu shopping, and Waikiki activities. The Oahu Hotel is just a short stroll from the world-famous Waikiki Beach and from numerous Waikiki restaurants.
Each Guest Room of the Oahu hotel features a Private Balcony, Flat Screen TV, and other impressive amenities. It doesn't take long for guests to see why the newly-renovated guest rooms are a top pick of travelers looking for the perfect Waikiki hotel!
Visiting Waikiki? Choose Ambassador Hotel - A Honolulu hotel, located in the heart of Honolulu and close to many Honolulu activities, Honolulu things to do and more. Call toll free: 855.513.4392.
Take a Photo Tour of this Honolulu Hotel and Things to do in Waikiki.