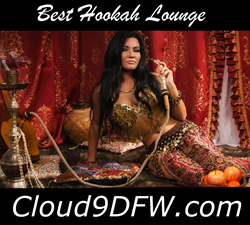 Cloud 9 Hookah Lounge remodeling is finished and the bar is open!
Richardson, TX (PRWEB) March 27, 2014
The completion of remodeling at the Cloud 9 Turkish hookah lounge is great news for people looking for the best hookah bar with authentic shisha tobacco, food, and drink in DFW. A new bar area was built to better serve customers looking for a fun and socializing atmosphere. Visit the site at Cloud9DFW.com.
Cloud 9 is perfect lounge for anyone looking for a hookah bar in Richardson, Addison, Plano, Allen, McKinney, Frisco, Garland, Dallas, or Parker TX. The drink menu has a lot to choose from like Turkish coffee, cappuccino, Espresso, Teavana Tea, smoothies, sodas, and Cloud 9 specialties like the Typhoon or mango Tango. The full drink menu can be found at Cloud9DFW.com.
There are many hookah tobacco flavors like Blue Mist, Double Apple, Sex On The Beach, and Tangerine Dream. Flavors can be mixed by choosing from either 2 or 3 flavors. The staff can also carve a bowl out of fruit such as apples, pineapples, oranges, lemons, watermelon, and grapes. The hookah menu is quite extensive, and certainly too much to list here. A few items have been mentioned, but for the full list be sure to visit the menu page at Cloud9DFW.com.
Hookah base modifiers include soda, milk, ice, sugar, tea, juice, and mint to name a few. Hookahs can come with a 2 or 3 hose base – depending on the day of the week. Ice chambers and ice hoses are also offered as additional options for those desiring the ultimate smoking experience. Visit Cloud9DFW.com to find out more about base modifiers.
Hookah is also catered which can be perfect for birthday parties, celebrations, and social functions. Be sure to ask about hookah catering in Richardson, Addison, Plano, Allen, McKinney, Frisco, Garland, and Parker, Texas. Go to Cloud9DFW.com to find out about catering.
It is hard finding a hookah lounge in Allen, TX. Cloud 9 is only a few minutes away and has delicious food as well. The food menu also has quite a large selection to choose from. Falafel, chicken shawerma, gyros, fajitas, and kabobs, make nice meals with appetizers like Baba Ghanoush, and desserts such as Kanafeh Abu Susu and Baklava. Anyone searching for a hookah restaurant, bar, café, or grill in Richardson, Addison, Plano, Allen, McKinney, Frisco, Garland, Dallas, or Parker TX will be pleased with Cloud 9. Go look at Cloud9DFW.com.
Any hookah connoisseur looking for Mediterranean, Egyptian, Middle Eastern, Turkish, Arabian, Iranian, Libyan, Israeli, Palestinian, or Kuwaiti, Lebanese, Moroccan style food or restaurant in Richardson, Addison, Plano, Allen, McKinney, Frisco, Garland, and Parker, Texas will be pleased. Go to Cloud9DFW.com for more info about the restaurant menu.
Cloud 9 wants to be the people's choice when searching for a quality hookah lounge in Addison, TX. Only minutes away, this hookah club offers authentic shisha, food, and drink, as well as live DJ's on certain days.
The mix of international and domestic music soothes the soul while amazing hookah relaxes the body and mind. Nothing is better than indulging at a hookah lounge while enjoying authentic food and drink with friends. This quality hangout is the perfect getaway for anyone who needs a hookah lounge in Parker to escape for a while.
Popular tobacco like Starbuzz, Social Smoke, and Al Fakher are often enjoyed more when done properly. The expert staff members are very attentive making sure every hookah bowl is burning perfectly and smoothly. Anyone wanting the best hookah lounge in Plano, TX is invited to come visit and enjoy the heightened experience for themselves. Check out Cloud9DFW.com.
Long lasting coals help provide and awesome smoking experience and the best hitting hookahs. The big screen TVs make for quality enjoyment of sports and news while relaxing with friends. Cloud 9 makes it easy for anyone desiring a hookah lounge in Garland to meet friends at. The lounge is full of comfortable couches and there is even a VIP room for those who want to take it to the next level.
Whether just getting off work, or meeting up with friends to relax and smoke, Cloud 9 creates the perfect place for people to come together and socialize. Anyone looking for a hookah lounge in McKinney will be pleased to know that Cloud 9 is only minutes away and offers the best experience in DFW. Get more on that at Cloud9DFW.com.
Weekends usually mean partying with friends and enjoying food and drink. Even people who do not smoke enjoy coming to Cloud 9 and meeting friends to talk, laugh, and have fun. The relaxing environment is the talk of the town around the North Dallas area.
Everyone is invited to come and see what all the buzz is about. There is no doubt that anyone seeking a hookah lounge in Frisco will be happy to know that remodeling is finished and the bar is now open. Go to Cloud9DFW.com and find out why more people are talking about this Turkish Hookah Lounge in North Dallas.