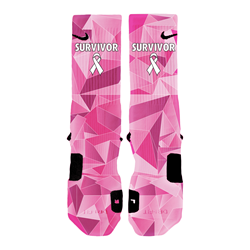 Breast cancer awareness designs are among HoopSwagg bestsellers; designs can include a supportive hashtag/message.
Sherwood, Oregon (PRWEB) July 07, 2015
HoopSwagg, a leading online retailer of customized elite socks and sports apparel, proudly announces the launch of HoopSwagg Causes. This new program gives back to the community by simplifying the fundraising process and adding team spirit to any worthy cause.
While HoopSwagg's main business model focuses on printing custom elite socks for basketball and school sports teams and fans, the concept has quickly attracted the attention of other nonprofits and groups, who frequently request custom designs of the unique socks, shoelaces and other sportswear for their organization or cause of choice. HoopSwagg's founder, teen entrepreneur Brennan Agranoff, is passionate about supporting charitable causes, and created HoopSwagg Causes as a way to make fundraising easier, more stylish and fun for his largely millennial audience.
Unlike other fundraising efforts with large minimum orders or complicated, labor-intensive pledge phases, HoopSwagg Causes is simple and scalable, so it works as well for individuals as it does for large national nonprofits. HoopSwagg Causes has already assisted many community and national organizations: Breast Cancer Honeycomb and Digital Camo socks and arm sleeves generate sales that support cancer research and support specific individuals battling the disease. The Oregon Football Association's (OFA) custom sock design will raise camp scholarship funds for this nonprofit dedicated to reconnecting former Oregon football players and giving back to local communities by enhancing the lives of youth through sports training, mentoring, and life skills development.
HoopSwagg Causes is an easy and unique fundraising solution:

No custom design fees; complimentary custom design service
Over 100 existing ready-to-print designs to choose from
No minimum order for individual causes; just a 10 pair minimum for nonprofits
Orders placed online from any device, shipped quickly; we handle logistics
Short production schedule and quick turnaround
20% of gross sales of each HoopSwagg Causes design go back to the cause
Create unified support and a distinct branded message (including hashtag or logo)
HoopSwagg gladly posts/reshares pictures/posts (on request) for a team or cause on the company's Instagram, Twitter and Facebook sites in order to gain additional visibility and reach (over 100k total followers of HoopSwagg social media handles)
By purchasing and wearing their bright custom socks, sports sleeves and more (from ties to phone cases), supporters bring additional awareness, needed funds and camaraderie to their cause, garnering coordinated and creative participation by supporters, who are encouraged to help spread the message even further by posting and sharing pictures of themselves wearing their gear on social media—which HoopSwagg often reshares to its thousands of social media fans, to amplify reach.
Francine Sullivan, Oregon Football Association Director of Marketing and Sales, said "We are thrilled to partner with Hoopswagg in the creation of Oregon Football Association branded socks. This partnership enhances our brand and supports our mission of giving back to the local community by enhancing the lives of youth through sports training, mentoring, and life skills development."
About HoopSwagg
In July of 2013, a teen entrepreneur founded HoopSwagg in an effort to produce fashionable and customized elite socks and sports apparel for basketball, baseball, lacrosse, football, running and more. The online store, http://HoopSwagg.com, is constantly adding fresh designs to its inventory. Customers may also order special, custom designs from the website. The Oregon-based company is passionate about charitable causes and is involved in helping community and national organizations with their fundraising efforts.