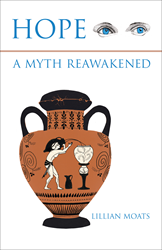 'Hope, a Myth Reawakened' invites the reader on a journey that is both epic in scope and deeply intimate in the questions it prompts us to ask ourselves about the nature of hope in a fragile world.
Chicago, Illinois (PRWEB) September 21, 2015
The official book launch for 'Hope, a Myth Reawakened' by Lillian Moats, is to be held at 7 p.m. on September 24, 2015 at Anderson's Bookshop, 5112 Main St. in Downers Grove, IL, 60515. Moats will talk about the personal "through line" that connects her 5 books, introduce 'Hope, a Myth Reawakened,' and sign copies of all of her titles. Light Refreshments will be served.
"I'm excited about sharing with readers the psychological connections that have woven through my previous titles and led to 'Hope, a Myth Reawakened'." Her previous titles are: 'The Letter from Death (2009)' 'Speak, Hands' (2006), 'Legacy of Shadows' (1999), and 'The Gate of Dreams' (1993, 1996). Moats' presentation will be videotaped to appear on YouTube and the FaceBook page for publisher Three Arts Press. 'Hope, a Myth Reawakened' is simultaneously published in paperback and eBook form.
Springing from ancient Greek mythology, 'Hope, a Myth Reawakened' invites readers on a journey that is both epic in scope and deeply intimate in the kinds of questions it prompts about the nature of hope in a fragile world.
Both a love story and a modern philosophical investigation, even the essential question of who is narrating the story draws readers in. They will take this journey on the wings of allegorical figures Hope and Despair, and through their eyes see millennia of human love and loss, confronting today's pressing and personal questions.
As with her four previous books, Lillian Moats asks of her readers a quiet attentiveness, and amply pays back that gift. The rhythms of her writing propel readers through this timely allegory, in which they meet characters wholly familiar, yet encounter them as if for the first time. Full of suspense and insight, this book will speak to readers who think about a world in peril, about the meaning of life and death, and who seek authentic hope in an age of denial.
According to Loyal Rue, Emeritus Professor of Philosophy and Religion, Luther College:
"Lillian Moats aspires to reawaken in us a sense of hope in an age dominated by confusion, trepidation and despair. Her allegory seduces readers into serious reflections on the nature and sources of hope. The language herein is inviting, the insights are abundant, and the suspense is captivating. Perhaps you will detect, as I did, hints of Dante and Plato as the author engages Hope and Despair in constructive dialogue. This book is inspiring, and you are to be envied if you can find something better to do than to read it."
The trade paperback version of the book ($12.00) is 5 ½" x 8 ½", with French flaps, 96 pages. It is distributed to the trade by Itasca Books, Minneapolis, can be ordered from any bookshop and is available from all major online outlets. The eBook (suggested price: $4.95) can be ordered directly from eBookIt.com or from Amazon, iTunes, Barnes & Noble, Kobo and Google.
About the Author:
Lillian Moats is a writer, artist and filmmaker living near Chicago. She earned a Bachelor of Fine Arts degree from the University of Michigan and a Master's degree from the University of Wisconsin. 'Hope, a Myth Reawakened' is Moats' 5th book. She was privileged to have the late historian and world renown peace and justice activist Howard Zinn write the foreword for her previous book 'The Letter from Death.' Moats' first book 'The Gate of Dreams' was selected for the South Carolina Junior Book Award List. Film awards (with JP Somersaulter) include: Special Jury Award, Chicago International Children's Film Festival, for their body of work; more than forty other national and international film festival showings, including 6 Cine Gold Eagle awards, and 5 awards from the Chicago International Film Festival, all for art films.
About eBookIt.com
Since 2010, eBookIt.com (based in Sudbury, Massachusetts) has helped thousands of authors and publishers get their books converted to ebook format, and distributed to all the major ebook retailers, including Amazon.com, Barnesandnoble.com, Apple iBookstore, Kobo, Sony Readerstore, Ingram Digital, and Google eBookstore.
Contact: Pamela Gifford, pamela(dot)gifford(at)threeartspress.com, 630-852-9741, or Anderson's Bookshop, 630-963-2665
###