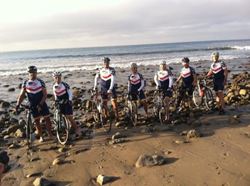 (PRWEB) July 08, 2014
Ride Across USA (http://www.rideacrossusa.com), a team of seven bicyclists, will complete an odyssey on Tuesday, July 8, 2014 that took them across the country in an effort to raise funds and attention to the needs of today's military families. By July 8, the cyclists will have biked almost 3,000 miles and passed through 12 states, beginning in California and finishing 35 days later in Florida. Funds raised will benefit Hope For The Warriors®, a national nonprofit organization that assists post-9/11 service members, their families, and families of the fallen who have sustained physical and psychological wounds in the line of duty.
Route Details: On Monday, July 7, the team will stop in Waycross, Georgia. They will leave the next morning, travel south through Folkston until then reach Hillard. They will then travel east, then southeast to Yulee until then hit the Buccaneer Trail. They will follow that road to the Atlantic Ocean in Amelia Island. For a detailed route, visit: http://ridewithgps.com/routes/4662473.
The Ride Across USA team, led by team captains Tracy Draper and Ed Bennett, began on June 4, 2014 in Malibu, CA. Each cyclist ceremoniously dipped their back tires into the Pacific Ocean before taking off in the early morning hours. The cyclists will complete their ride on July 8, 2014 in Amelia Island, FL, dipping their front tires into the Atlantic Ocean. After the team has reached the Atlantic Ocean, the group will be joined by family, friends and a representative of Hope For The Warriors® for an official check presentation.
As they biked across the country, the group visited military bases, monuments, and important American landmarks along the way. They have participated in park dedications for fallen heroes, a fireworks ceremony for Independence Day, and much more. Along the way, they have also had great conversations with citizens across the country, proving that no matter where you go, there are people who care about their country and those who serve our country in the military.
"The response to this team has been incredible! People from all across the country have reached out to our organization after meeting Tracy and her team," Anne Barnwell, Hope For The Warriors®, Senior Director, Communications said. "They are impressed with both the team's determination and their commitment to helping military families."
Each team member has had a long-standing dream of riding across the country. To be able to realize this dream and help the most deserving Americans is a win-win situation. Team members include two mothers, a fireman, entrepreneur, a registered nurse, a computer programmer and retired Army medic – a well-rounded representation of our fellow Americans. For more information on the team and ride, see RideAcrossUSA.com
The team set the goal to raise $35,000 both before their ride and along the way. To donate, visit http://www.rideacrossusa.com. The site also gives an overview of their route and has a GPS tracker to show where they are at that moment.
The mission of Hope For the Warriors® (http://www.hopeforthewarriors.org) is to enhance the quality of life for post-9/11 service members, their families, and families of the fallen who have sustained physical and psychological wounds in the line of duty. Hope For The Warriors® is dedicated to restoring a sense of self, restoring the family unit, and restoring hope for our service members and our military families.
Hope For The Warriors® has earned a Four-Star Rating from Charity Navigator (http://www.charitynavigator.org) for three consecutive years. Charity Navigator is an independent organization that evaluates fiscal responsibility and accountability of nonprofits.
Hope For The Warriors® (Federal Tax ID 20-5182295) is a 501(c)(3) tax-exempt charity as defined in sections 509(A)(1) and 170(B)(1)(A)(VI) of the Internal Revenue Code. Combined Federal Campaign, CFC #27800.
###