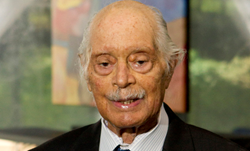 "Judge Ward was a Morehouse Man in every sense."
Atlanta, GA (PRWEB) May 07, 2016
The Morehouse College community joins other Georgians as we mourn the loss of legal, political and civil rights trailblazer, the Honorable Judge Horace T. Ward, a member of the class of 1949. He was 88.
Following Ward's wishes, his funeral will be held at Morehouse College in the Martin Luther King Jr. International Chapel on Tuesday, May 3 at 11 a.m. The service is open to the public.
Ward, who died April 23, was the first African American judge to serve on the U.S. District Court in Georgia after he was appointed by President Jimmy Carter in 1979 and was Georgia's second African American to serve in the state legislature after Reconstruction. The first was his Morehouse classmate, Leroy Johnson
After graduating from Morehouse, Ward's application to law school at the University of Georgia triggered a long court battle, as he would have become the first African American to attend UGA. Ward eventually earned his law degree at Northwestern University. But he helped break down the doors of segregation at UGA as part of the legal team that successfully fought to get Hamilton E. Holmes and Charlayne Hunter admitted as UGA's first African American students.
"Judge Ward was a Morehouse Man in every sense," said Morehouse President John Silvanus Wilson Jr. "Our students and alumni strive to live consequential lives that make a difference in our world. I am proud to say that Horace T. Ward did that and so much more. He will be missed and his legacy will live on."