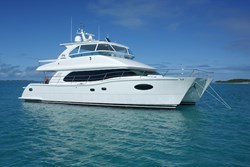 'Space and grace. Those are two words that sum up our new boat.' - Alec Hammond in Yachts Magazine
Fort Lauderdalle, Florida (PRWEB) October 08, 2013
The 54th Annual Fort Lauderdale Boat Show will be running from October 31st to November 4th, 2013 with Horizon Yachts and Horizon Power Catamarans located at F dock, slips 600-604. All guests and general admission are welcome to view these extraordinary yachts.
The Fort Lauderdale Boat Show features some of the world's most elaborate and luxurious power yachts, including Horizon Power Catamaran's PC60. Covering 6 locations and over 3 million square feet, the show's exhibits will be comprised of top yacht builders, designers, exotic cars and brokerage yachts. Bus shuttles, water taxis, and riverboats provide attendees with easy navigation across the expansive space consumed by the greatest of vessels available in today's international yachting market.
"The PC60 would unquestionably be the best riding big powercat I have ever had the experience to run hard and fast in rough water. It is free of vices and a credit to the builders and designers. Not only does it provide outstanding performance and handling, it also has the now legendary Horizon stamp of quality along with it," says (Pacific Power Boat.)
The PC range is built using the patented SCRIMP resin infused system ensuring a lighter, stiffer and far stronger structure compared to typical build methods. Our owners can go to sea with confidence, knowing that their yacht has been professionally designed, engineered and built to the highest standard in the industry to withstand the rigors of true Blue Water cruising.
The PC60 is available in both Open Flybridge and Skylounge configurations, both beautifully designed, crafted and quite possibly the most elegantly styled luxury power catamarans to grace our shores. Their highly refined and tank tested hull designs make for a remarkably smooth, soft and stable ride, regardless of sea conditions.
In addition, Horizon Power Catamarans is pleased to announce PC52 is in production with the first catamaran sold into Australia, and two more into the USA. "The PC52 was created with luxury and comfort in mind," says (Stuart Hegerstrom – Director of Horizon Power Catamarans). "It's a mega-mini luxury yacht designed with the same concepts in mind as our PC60, just in a slightly more compact package."
Horizon Power Catamarans welcomes all guests to this event and invites each to admire their PC60's beauty from within. The interior of the entire catamaran is modern and sleek, exuding abundant confidence. Her style and grace will continue to surprise you with every walking step on board.
Tickets, directions and more information are available on the Fort Lauderdale Boat Show website.