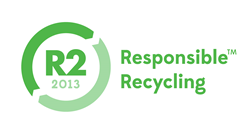 "R2 certification is a further recognition of our dedication to the safe, secure disposal of IT hardware in the data center." - Stephen Buckler, Horizon Technology
LAKE FOREST, Calif. (PRWEB) December 13, 2018
Horizon Technology, a leading provider of IT asset disposition (ITAD) solutions for the data center, has added Responsible Recycling R2 Certification (R2:2013), accredited by Orion Registrar, to its list of industry certifications.
The R2 Standard requires businesses that refurbish and recycle used electronics to comply with a common framework for safety, documentation and organizational processes.
"Horizon has always been committed to best practice at every stage of the IT asset disposition process," said Stephen Buckler, chief operating officer of Horizon Technology. "As a business, we pride ourselves on offering robust, responsible ITAD services, with an emphasis on rigorous data security and environmental responsibility. R2 certification is a further recognition of our dedication to the safe, secure disposal of IT hardware in the data center."
The company's certification comes as Horizon expands its ITAD services among organizations decommissioning data center hardware as part of a refresh cycle or cloud migration.
"As with our certification by the Asset Disposal & Information Security Alliance (ADISA) for data sanitization, receiving Responsible Recycling R2 Certification demonstrates our commitment to the highest levels of industry compliance across our ITAD and asset recovery solutions," said Mark Kier, Horizon Technology's director of business development.
With deep experience in the enterprise secondary computing market, Horizon bridges the gap between owners of used and surplus IT assets and buyers of high-quality refurbished technology components. The company handles all phases of the ITAD process, with asset level tracking at every stage and proficiency in reverse logistics.
Working with organizations across North America and internationally since 1996, Horizon leverages its proprietary market database to maximize value recovery from retiring IT hardware while ensuring industry compliance and safeguarding data security. The Responsible Recycling R2 Certification (R2:2013) is overseen by the non-profit Sustainable Electronics Recycling International (SERI).
ABOUT
Headquartered in Lake Forest CA, Horizon Technology is an industry-leading supplier of data center ITAD solutions. As an OEM-certified supplier of factory recertified drives, Horizon stands ready to ensure you are not only maximizing value recovery from your retiring IT assets but doing so in the most environmentally responsible way. Our data erasure workflows and secure chain of custody are second to none.
For more information, contact Mark Kier at mark.kier(at)horizontechnology(dot)com or on +1 (949)-454-4624. Visit our website at https://www.horizontechnology.com for additional resources, including our latest eBook on best practices for data sanitization in the data center.