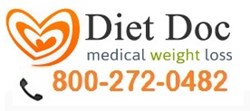 Diet Doc offers incomparable services to dieters across the country, delivering consistent effective prescription hormone diet plans directly to patients' doors.
Miami, FL (PRWEB) October 01, 2013
Although sugary snacks are normally considered to be an instant energy booster, the reality is that these unhealthy snacks generally leave one feeling sluggish, fatigued and ready for an afternoon nap. The reason behind these feelings of after dinner fatigue is because high amounts of sugar, breads, pasta and potatoes initially generate a short term feeling of increased energy by spiking the blood sugar and increasing the metabolism. The pancreas is then instructed to release higher levels of Insulin into the bloodstream to accommodate these high sugar levels. The release of the high levels of insulin sends a message to the brain to release serotonin, a chemical that regulates the sleep/wake cycle. This newly released serotonin then prompts extreme tiredness and fatigue. Diet Doc's new diet plans now rely on natural, sugar free foods and supplements to provide a great e3nergy boost without the crash commonly associated with sugary foods.
Decades of scientific research has enabled Diet Doc to create natural, safe and rapid weight loss prescription hormone diet plans that will put an end to the fatigue and sluggish feelings that occur after a meal. Developed by certified nutritionists that are educated in nutritional science, these prescription hormone diet plans are unique to each patient's personal nutritional needs, as well as being compatible with the patient's particular lifestyle, activity level and medical conditions. The professionals at Diet Doc are keenly aware of which food groups offer an energy boost and which foods actually deplete energy. By combining years of scientific research with the knowledge and expertise of the specially trained staff of board certified doctors, nurses, nutritionists and coaches, Diet Doc's prescription hormone diet plans incorporate nutrient rich foods, green leafy vegetables and lean proteins that nourish and invigorate the body.
Diet Doc's prescription hormone diet plans help to balance essential hormones by helping patients follow a healthy diet. This new approach to fast weight loss has resulted in thousands of dieters, who have been unsuccessful in losing weight in the past, lose weight at an amazing pace and lead a more active lifestyle while looking and feeling better than ever before.
Diet Doc's strategically designed diet plans combine the natural ingredients of their 100% pure prescription hormone with meal plans that allow the body to naturally, safely and rapidly melt away excess pounds and inches. Because Diet Doc's prescription hormone is enhanced with powerful, energy boosting Vitamin B12, the days of feeling sluggish, tired and napping after a meal are in the past.
Diet Doc's prescription hormone diet plans are so effective because, although they help patients over initial weight loss hurdles, the treatments are combined with education on the best methods to lose weight for each particular body type and which foods generate weight loss or weight gain to ensure long term and permanent weight loss.
Subsequent to making this lifestyle change with prescription hormone diet plans, each patient must complete a detailed, yet quite simple, medical evaluation which will be followed by a consultation with an in-house Diet Doc physician. Because the company utilizes the most current technology, both of these tasks can be accomplished from the comfort of the patient's own home simply by picking up the phone or logging onto the computer.
Diet Doc offers incomparable services to dieters across the country, delivering consistent effective prescription hormone diet plans directly to patients' doors. The company's in-house medical weight loss experts guide every patient through their personal health journey by altering diet plans if results begin to taper. Weekly checkup calls are scheduled to assess progress, attitude, and comfort level, among other factors. This level of personalized service enables the physicians at Diet Doc to identify and resolve any weight loss plateaus or other roadblocks that may be prohibiting fast weight loss. Because the compassionate and dedicated professionals are available 6 days per week via phone or email, and always eager to answer questions and lend unlimited support, guidance and encouragement, patients are never alone during this life changing transition.
Prescription hormone diet plans are designed for those that are struggling to lose that last difficult 10 pounds to those that must lose 100 pounds or more and for all body shapes and sizes. To begin a more active, rewarding and healthy life without feeling sluggish and fatigued after a meal, call the professionals today to schedule a free and confidential consultation.
Diet Doc Contact Information:
San Diego, CA
(800) 272-0482
Weight-loss(at)Dietdoc(dot)info
http://doctorsupervisedweightloss.com/testimonials.php
Twitter: DietDoc10
Facebook: DietDocNaturalHealth