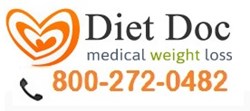 The staff of professionally educated fast weight loss experts is eager to offer everyone the opportunity to enjoy a healthier and more active lifestyle by losing weight naturally, safely and rapidly.
Dallas, TX (PRWEB) October 16, 2013
An evidence based literature review published in The Obstetrician and Gynecologist and reported by Medical News Today indicates that, in addition to the known risks associated with lap band surgery, women who become pregnant prior to one year of undergoing this surgery experienced complications during pregnancy, such as lap band slippage and migration. Symptoms of these complications include severe vomiting. 24% of the women evaluated experienced band leakage. Another study indicated that 31% of women suffered spontaneous miscarriage, even after waiting 18 months to become pregnant.
With a price tag upwards of $30,000, lap band surgery can compromise one's health with risks such as bleeding, infection, blood clots, gallstones, anemia and osteoporosis. Weight loss will not begin until after the recovery period, which is typically 4-6 weeks after lap band surgery and will be gradual during the first year. The procedure entails a surgeon making several small incisions in the stomach to decrease its size to limit the amount of food that it is capable of holding. A device is wrapped around the upper part of the stomach to form a ring. A thin tube is attached to the ring which leads to an access port which will be left under the skin for future adjustments. After recovery, the patient will visit the physician for adjustments to be made to the band through the stomach port. Most patients require pain medication during the recovery period and can consume only minimal amounts of liquid, slowly adding small amounts of solid food. Oftentimes, the patient is instructed to grind food before eating to avoid nausea and vomiting.
Diet Doc's prescription hormone diet plans are medically supervised and offer unlimited support, encouragement and guidance from beginning to well after the very last ounce of fat has disappeared. The staff of professionally educated fast weight loss experts is eager to offer everyone the opportunity to enjoy a healthier and more active lifestyle by losing weight naturally, safely and rapidly. Furthermore, the Diet Doc hormone diet plan allows women to lose weight safely and naturally, and places no restrictions on how soon after women can become pregnant.
Based on information obtained in a detailed medical evaluation and Diet Doc in-house physician consultation, certified nutritionists, who have been educated in the science of safe and fast weight loss, will work with each patient to create diet plans that are specific to age, gender, body size and type, metabolism, and nutritional and medical needs while also assuring that each diet plan fits neatly into the patient's lifestyle.
These uniquely designed diet plans are combined with prescription hormone medication that is administered in regulated doses under strict medical supervision. This powerful combination signals the hypothalamus to target stores of fat that have been trapped in the cells of the body in areas such as the hips, thighs, belly and underarms. The old fat is then released into the bloodstream where it will be used as the body's primary source of energy. Because Diet Doc's 100% pure prescription hormone has the ability to naturally suppress the appetite while promoting fast weight loss, as well as being enhanced with Vitamin B12, which naturally and effectively boosts the metabolism and prevents diet plateaus, patients are reporting a noticeably slimmer waistline while avoiding the typical loss of energy and between meal hunger often associated with dieting.
Diet Doc has utilized the latest nutritional science to create diet plans that are rich in essential nutrients, continuing to lead competitors in providing the best weight loss results available. In addition to providing each patient customized, tailor made diet plans, Diet Doc also offers delicious proprietary diet foods and snacks, as well as specially formulated vitamins, minerals and prescription strength diet pills. To assure that clients receive only the purest prescription hormone medication and diet supplements available on today's market, Diet Doc manufactures all diet products in their own United States based FDA approved pharmacies. For added convenience, all diet aids will be shipped directly to the patient's home to avoid embarrassing, time consuming and costly visits to weight loss clinics. Included in their package, patients will receive a Certificate of Analysis, performed by a third party laboratory, showing the quality of the ingredients and levels of each active ingredient.
Because the company utilizes the most current technology, evaluations, consultations and scheduled weekly checkups can be accomplished from the comfort of the patient's own home, and with the ease of a telephone call. This level of personalized service enables the fast weight loss physicians to monitor patients and identify weight loss plateaus and resolve any barriers that may be inhibiting fast weight loss.
Diet Doc is passionate about helping patients reduce their weight to avoid weight related diseases and conditions and has helped thousands lose weight quickly and successfully without the potential health risks associated with invasive and costly lap band surgery.
Diet Doc Contact Information:
San Diego, CA
(800) 272-0482
Weight-loss(at)Dietdoc(dot)info
http://doctorsupervisedweightloss.com/testimonials.php
Twitter: DietDoc10
Facebook: DietDocNaturalHealth