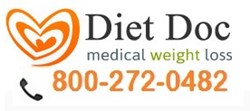 Diet Doc's physicians, nurses and certified nutritionists are committed to helping each patient reach their fat loss goals and offer unlimited consultations six days per week
Houston, TX (PRWEB) November 04, 2013
Dieters in Houston have many options when it comes to choosing weight loss pills and diet plans, but, because of the numerous options, dieters should take care in choosing a program that is right for them. Most often, diet plans will offer quick fat loss results that serve general dieting needs but will not address the patient's personal and unique causes of weight gain. Because of this, dieters in Houston will often see a return of the weight that they were successful in losing. When Diet Doc created their diet plans and weight loss pills, they considered this principle and designed their programs for a more personalized approach to losing weight. In addition to containing prescription strength hormone levels, their team of weight management experts works closely with each patient to address their own, personal needs in order to sustain their weight over time.
First, patients will consult with a Diet Doc physician to discuss the underlying causes of weight gain, including any internal imbalances or improperly functioning internal organs. Physicians, specially trained in the most effective methods for losing weight, will then recommend and prescribe weight loss pills that will adequately address these issues and concerns. And, to help physicians pinpoint the patient's areas of concern, each potential patient is asked to complete a confidential, online health and medical questionnaire prior to their initial consultation. Following this first meeting, patients will receive a one-year prescription for Diet Doc's specially formulated weight loss pills and supplements and can order their supplies over the phone or the internet in order to avoid traveling to a diet clinic.
Because Diet Doc's diet plans are designed to address many causes of weight gain, they have developed many different weight loss pills geared toward various issues. And, while patients will often combine several treatments, most patients will be prescribed hormone diet treatments that contain high hormone levels that naturally target excess and unnecessary stored body fat. All of Diet Doc's weight loss pills, supplements and treatments are produced in their own, fully licensed and United States based pharmacies to ensure that only effective hormone levels are utilized. Unlike other hormone diet plans, Diet Doc is committed to bringing only the highest quality hormone levels appropriate for fast and easy fat elimination. Unfortunately, there are many hormone diet plans available that only use homeopathic hormone levels, levels that are much too low to offer patients in Houston any real results. To avoid wasting time or money, patients should research all potential diet plans, and the hormone levels that they use, in order to find a program that will best serve their dieting needs.
Diet Doc's physicians, nurses and certified nutritionists are committed to helping each patient reach their fat loss goals and offer unlimited consultations six days per week. Should clients have questions about appropriate hormone levels, the ingredients in their fat burning weight loss pills or their hormone diet plans in general, the Diet Doc team remains available to provide answers, guidance and support.
Diet Doc Contact Information:
San Diego, CA
(800) 272-0482
Weight-loss(at)Dietdoc(dot)info
http://doctorsupervisedweightloss.com/testimonials.php
Twitter: DietDoc10
Facebook: DietDocNaturalHealth