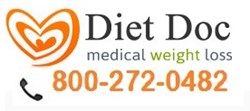 Once patients begin taking their hormone therapy treatments as part of their ketogenic diet plan, they will be able to easily eliminate processed carbohydrates from their meals and will see almost immediate fat loss results
Charleston, SC (PRWEB) October 05, 2013
For dieters in South Carolina, finding the perfect combination of healthy, low fat foods and diet pills or treatments can be confusing, especially for those without a health or medical background. Fortunately, the Diet Doc team is comprised of specially trained physicians, nurses and nutritionists who are committed to helping their clients reach their weight loss goals without negative dieting side effects seen with many fad diet plans. By combining a healthy, ketogenic diet with prescription hormone therapy and fat burning diet pills, thousands of Diet Doc patients have been able to successfully lose weight, some losing up to almost a pound of excess stored fat per day.
After an initial physician consultation, patients will be provided with a one-year prescription for Diet Doc's natural hormone therapy treatments and fat burning diet pills. Patients can order their supplements over the phone or the internet and have them shipped directly to their front door. These supplements work seamlessly with a low carbohydrate ketogenic diet to target stored fat in hard to reach areas of the body and eliminate fatigue, weakness or cravings that can disrupt even those most committed to their diet plans.
Patients will also begin working with a certified nutritionist who has been specially trained in ketogenic diet programs and the most effective methods to eliminating body fat. Considering the patient's age, gender, health history, lifestyle and food preferences, nutritionists will develop a ketogenic diet plan that is low in carbohydrates by still leaves the patient feeling full and satisfied. This personalized approach to weight loss not only helps patients reach their weight management goals, but because it contains foods patients have become accustomed to, it also encourages them to stick with their ketogenic diet to see results.
Diet Doc understands that eliminating or reducing carbohydrates from the patient's diet can be challenging for some and utilizes prescription hormone therapy treatments and diet pills to control cravings and remove the temptation to indulge in fatty, processed foods. Gaining control over the appetite has allowed patients to reach their weight loss goals and sustain their weight over time. And, while Diet Doc has many exclusive supplements to treat specific weight gain issues, many patients choose to receive prescription hormone therapy treatments because they control the appetite while actively flushing excess fat from their body. These natural hormone therapy treatments have helped thousands of Diet Doc's patients rid themselves of embarrassing fat buildup without struggling through cravings or having to wait long periods to see results. Once patients begin taking their hormone therapy treatments as part of their ketogenic diet plan, they will be able to easily eliminate processed carbohydrates from their meals and will see almost immediate fat loss results.
However, some patients may suffer from particular issues like emotional eating that has caused them to put on extra weight. To address emotional eating, Diet Doc developed diet pills containing saffron extract that works to control overeating triggered by depression, anger and other emotional reactions. Until the discovery of saffron extract, there were no other diet pills or medications available to treat this cause of weight gain, something that many dieters struggle with.
Diet Doc Contact Information:
San Diego, CA
(800) 272-0482
Weight-loss(at)Dietdoc(dot)info
http://doctorsupervisedweightloss.com/testimonials.php
Twitter: DietDoc10
Facebook: DietDocNaturalHealth