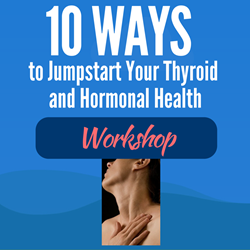 "Many of us vastly underestimate the profound role that our hormones have on everything...In this workshop, participants will learn how to practically resolve hormone imbalances..." ~ Mary Shomon
New York, New York (PRWEB) November 12, 2015
Nationally-known patient advocate and bestselling author Mary Shomon, leading NYC integrative physician David Borenstein, MD, and holistic meditation and stress management expert Demo DiMartile will be holding a life-changing workshop on Saturday, November 21, 2015 at the New York Open Center. The workshop focuses on practical body/mind methods to get the thyroid, adrenals, and sex hormones into optimal balance, for true health and wellness. Information about the workshop is available online at https://www.opencenter.org/events/10-ways-to-jumpstart-your-thyroid-and-hormonal-health/
The workshop, titled "10 Ways to Jumpstart Your Thyroid and Hormonal Health," is designed for the many people who are fatigued, brain fogged, gaining weight, having trouble sleeping, stressed, depressed, suffering from a low sex drive., or losing hair...and don't know why or what to do to fix these health challenges.
For many people, these are all signs that the thyroid and other hormones -- adrenal/stress hormones, sex hormones -- aren't up to speed or in balance.
Workshop participants will learn how to:

ensure that thyroid and adrenals are doing their jobs properly
balance sex hormones to avoid depleted energy, hair loss and dulled sex drive
use mindfulness based stress reduction techniques for hormone balance, better sleep, increased energy, and enhanced immune function
know what to eat and how to move optimally to keep hormones in check
control weight, and lose weight
balance hormones for better energy and focus
harness the power of melatonin (not just a sleep remedy) to balance hormones, combat perimenopause/menopause, lower blood sugar and improve mood
Says Shomon: "Many of us vastly underestimate the profound role that our hormones have on everything --- from mood, energy and thinking, to weight loss, sex drive, and overall health. In this workshop, participants will learn how to identify their hormone imbalances, and more importantly, how to practically resolve them with conventional, holistic, and mind-body techniques. and approaches.they can start implementing the day of the class!"
The one-day workshop is scheduled for Saturday, November 21, 2015, at the New York Open Center at 22 E 30th St in New York City. The cost is $150 for Open Center members, and $160 for non-members, plus a $15 materials fee payable the day of the class. Important reference materials, class notes, and a full-length CD valued at $15 will be provided in an information-packed handout package.
DETAILS
10 Things You Can Do to Improve Your Thyroid: Creating Your Wellness Plan
Featuring Mary Shomon, David Borenstein, MD and Demo DiMartile
Date: Saturday November 21, 2015
Time: 10:00 am - 5:30 pm
Location: New York Open Center, 22 E 30th St (Between Madison and 5th Avenue), New York City
Cost: Open Center Members: $150 / Nonmembers: $160 - Plus $15 materials fee the day of class
Class # 15FHH42S
Open Center Course Information: https://www.opencenter.org/events/10-ways-to-jumpstart-your-thyroid-and-hormonal-health/
Online Registration:
https://secure.opencenter.org/wconnect/CourseStatus.awp?~~15FHH42S
Phone Registration: 212-219-2527
ABOUT THE PRESENTERS
Mary Shomon
Mary Shomon is a nationally-known thyroid patient advocate, New York Times bestselling author of 11 books on thyroid disease and hormonal health, including "The Thyroid Diet Revolution," "Living Well With Hypothyroidism," "Living Well With Graves' Disease and Hyperthyroidism," and the Menopause Thyroid Solution." She has been the Thyroid Expert for About.com - part of the IAC network of top Internet sites - since 1996, and is a co-star of the PBS "Healthy Hormones" television specials. She has also been featured in hundreds of television, radio, newspaper and magazine interviews. Mary is on the faculty at the New York Open Center. http://thyroid.about.com / http://www.thyroid-info.com / http://www.facebook.com/thyroidsupport
David Borenstein, MD
David Borenstein, MD is the founder of Manhattan Integrative Medicine, an integrative practice based in New York City, where he focuses on thyroid disease, hormonal health, pain management, immune health, and cutting-edge treatments like prolotherapy, low dose naltrexone (LDN),. He also founde dthe New York Stem Cell Treatment Center, where he provides cutting-edge autologous stem cell therapies for pain and immune function. http://www.davidborensteinmd.com / http://www.nystemcellcenter.com
Demo DiMartile
Demo DiMartile is founder of One Light One Spirit, offering guided meditations and seminars intended to support and sustain mind-body health, wellness and inner peace. He is the creator of the "Thyroid Meditation" audio CD and MP3 guided meditation program, as well as "Mastering Deep Relaxation," and other audio meditation programs. http://www.onelightonespirit.com