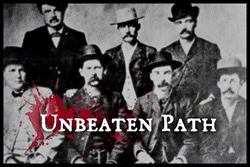 I knew for this to have a chance, it needed to have something special going for it.
Los Angeles, CA (PRWEB) August 18, 2015
In a breakthrough technique for crowdfunding films, writer/director John Holowach today released Unbeaten Path, an old western horror film, onto Indiegogo with a full-length adaptation of the screenplay in "audiobook" podcast format, complete with voice actors, music, and sound design by Kimiko Muwanguzi -- previously part of Medal of Honor's sound integration team.
The project, which is asking for $200k to help finance a feature film version, concerns a group of outlaws that flee from bounty hunters after they've violently robbed a train, forcing them into the cold mountains where a terrifying creature begins hunting them.
Dubbing it a "yeti western," Holowach is enthusiastic about its prospects. "It's very difficult to finance independent movies anymore, and even studios seem increasingly focused almost exclusively on $200m franchise films instead of a diversity of projects," he said. "I knew for this to have a chance, it needed to have something special going for it."
He hopes the audiobook, which features 11 different voice actors and an original score, connects with a wide audience. "More than just fans of horror movies -- who have been very enthusiastic -- I've heard a lot of people who otherwise aren't into horror tell me they were riveted and want to see it as a film. I can only hope the internet will be so kind to something I'm very passionate about."
The Unbeaten Path audiobook is available through Indiegogo, YouTube, Bandcamp, iTunes, and coming soon to Spotify and other major download/streaming services.