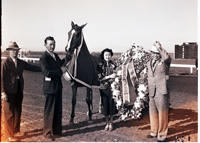 San Mateo, CA (PRWEB) April 23, 2014
As racing fans are gearing up for this year's Kentucky Derby, so is the Jockey Club in San Mateo, CA. From the satellite broadcasts to the new and improved catering, Northern California's newest satellite wagering facility is ready to host a day of successful and enjoyable betting.
The Jockey Club is a satellite wagering facility located at 2495 S. Delaware St., San Mateo, CA 94403. General admission into the club is $5 and $8 for the Turf Club, the section of the Jockey Club that offers restaurant-style wait staff service. The Jockey Club is open Wednesday-Sunday starting at 10 a.m. and night racing takes place Friday-Sunday nights.
This San Mateo satellite wagering facility favorite hosts a vast range of races and events throughout the year such as the Kentucky Derby, Preakness and Belmont Stakes. It is recommended to make reservations in advanced for weekends and major race days.
The Jockey Club now offers on-site catering from Creative Touch Catering. The newly updated menu offers newer and more appealing food and beverage options, daily specials and private party menu options, and the pricing has been simplified to the nearest dollar and includes the tax.
The Kentucky Derby is right around the corner, and this year's race is expected to be better than ever with the top 20 three-year-olds competing for the winners share of the $2 Million dollar purse. Bay Area racing fans have a lot to root for this time around, as local favorite trainer Art Sherman has a gem of a horse named California Chrome who won this year's Grade I Santa Anita Derby and may very well be the wagering favorite for this year's Kentucky Derby.
The San Mateo Jockey Club is sure to have a full field as well with its enhanced preparation for this year's big race. Although the Turf Club is already fully booked for the Derby, general admission is always available. Out doors will open at 7:30 a.m.. Visit the Jockey Club website to learn more at http://www.smjockeyclub.com/.
About the company:
The Jockey Club of San Mateo offers the perfect venue for enjoying live horse wagering and shows from around the globe. The Jockey Club's lounge and private rooms are ideal for football booster clubs, corporate outings, birthdays and other events. It is open Wednesdays through Sundays, starting at 10 a.m., with night horse racing Fridays through Sundays. Parking is free year round. For more information about the Jockey Club horse betting facility, please visit their website.