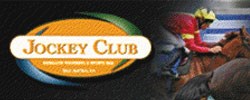 San Mateo, CA (PRWEB) September 16, 2013
Great racing continues throughout California during the month of September. Action can be seen at the Jockey Club of San Mateo.
In Northern California, the live horse racing continues at Golden Gate Fields in Berkeley through Sunday, September 15. Post time is at 1:15 p.m. each day. The action will resume on Friday, September 20 at the San Joaquin County Fair in Stockton. Thoroughbreds have been racing at the Stockton Fair since 1933; they will run through September 29.
In Southern California, the LA County Fair Meet is live, now known as the Barretts Race Meet at Fairplex. They will be running through Sunday, September 22, dark Mondays and Tuesdays. Racing at Santa Anita follows Barretts/Fairplex, opening September 27.
Additionally, it's not too early to make plans for the 2013 Breeders' Cup, running at Santa Anita on Friday and Saturday, November 1 and 2. The Jockey Club will be giving away complimentary t-shirts on Friday, November 1 to all patrons with paid admission, while supplies last. These quality t-shirts will feature both the Breeders' Cup and Jockey Club logos. Make plans to be here for some of the best racing of the year.
The Jockey Club Turf Club fills up well in advance, so call (650) 574-6069 right away to inquire about reservations. San Mateo Jockey Club at the San Mateo County Event Center is located at 2495 S. Delaware Street in San Mateo.
About the company:
The Jockey Club of San Mateo offers the perfect venue for enjoying live horse wagering and shows from around the globe. The Jockey Club's lounge and private rooms are ideal for football booster clubs, corporate outings, birthdays and other events. It is open Wednesdays through Sundays, starting at 10 a.m., with night horse racing on Fridays through Sundays. Parking is free year round. For more information about the Jockey Club horse betting facility, please visit their website.