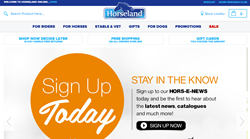 We've always aimed to be the one-stop shop to fulfil every horse lover's needs.
Nunawading, VIC (PRWEB) February 03, 2015
Horseland, Australia's biggest horse riding retailer, will commence their big Summer Clearance Sale in February. Customers can expect quality products at lower prices, covering every need of a horse rider. Horseland's annual clearance promises great deals and big bargains, with discounts going as high as 50% off selected clothing items.
Starting with a single store in 1978, the family run business soon grew into Australia's largest network of stores for all things equestrian. Kym West, Horseland's Online Marketing Coordinator, explains, "We've always aimed to be the one-stop shop to fulfill every horse lover's needs. We don't just provide high quality products, but exceptional customer service and advice!"
For the riders, Horseland supply a fashionable and comfortable clothing range, including pull on and full seat jodhpurs and breeches for both men and women, which are a part of the summer clearance sale. "For summer horseback riders, our classic polo shirts and stylish shirts will allow for comfortable yet fashionable riding. Our customers will certainly look great whether they are out there riding for leisure or competition," adds Ms. West.
The summer clearance also has great offers off rugs and footwear with up to 40% off. Each store will have clearance tables with great offers off all of ranges for kids and adults.
What's more, the warmer weather items for horses including WeatherBeeta summer rugs and show sheets, are in stock in all of our stores as well as online. The summer sheets are made of a strong polyester outer with cotton content to keep the horse cool and includes removable leg straps to provide better freedom and protection. "During our summer clearance sale, customers will also get discounted prices for other horse equipment such as bridles, pads, and bit accessories," comments Ms. West.
In addition to this sale, Horseland offers a Rider Rewards Program where customers earn points towards saving money each time they shop. Horseland also offers gift cards, mail orders, saddle fitting services, as well as a lay-by program for 2 months with a 20% deposit.
For further information on this summer clearance sale, visit Australia's largest equestrian retailer at: http://www.horseland.com.au
About Horseland
Horseland, founded in 1978, is Australia's largest equestrian retailer with 54 stores. A successful family-owned and operated business offers quality horse gear for sale. Products for riders, horses, stable and vet, dogs, as well as gifts are available at their website. Their vision is to be the "Heart of the Equestrian Community" and their mission says it all: "Whether it's finding out what's on, knowing who to talk to, showing you how or just being understood, Horseland provides horse lovers with hints, tips, advice and experiences to realise the full potential of you and your horse."