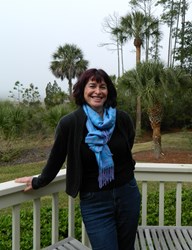 Savannah, GA (PRWEB) January 23, 2014
Can't afford a winter cruise? By viewing the artwork by Victoria Collett in the Hospice Savannah Gallery, visitors can get into the spirit of being on a cruise without the cost.
Watercolorist Collett has filled the art gallery's hallways with tropical images which will hang through March 31, 2014.
Join Collett at her wine and cheese reception from 5:30-7:30 p.m. Thursday, Jan. 30 at the gallery, located at 1352 Eisenhower Drive, beside the U.S. Post Office. The gallery is open during regular business hours.
Collett moved from Australia to the U.S. via Europe in the mid-1970s and worked in New York as an operating room nurse. She moved to Savannah in 2008. When not at her day job in scrubs at Memorial Health University Medical Center, she is immersed in the fine arts and has extensive training in watercolor, oil painting and print-making. She is also a published short story writer and holds a Master of Arts degree in writing from Manhattanville College in New York.
For more information, please contact Beth Logan, director of marketing at 912-200-5345. A portion of all sales benefit the community programming of not-for-profit Hospice Savannah, Inc. Hospice Savannah helps people with the burden of caring for loved ones when they receive a diagnosis that limits their ability to live a normal life. They provide 24-hour on-call registered nurses, social workers and chaplains in order to assist clients. They also provide follow-up grief support and counseling to loved ones during the bereavement period. For more information about Hospice Savannah and its services, please visit the website at http://www.hospicesavannah.org, or call 912-355-2289.
About the Company:
Hospice Savannah, Inc., a not-for-profit organization, provides the community with the best services and resources for living with a life limiting illness, dying, death, grief and loss. Hospice Savannah exists to help lift the burden of worry when you or any of your loved ones receives a life limiting diagnosis.