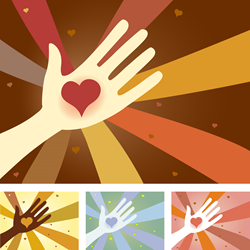 Volunteers often find that their greatest satisfaction comes from contributing to the wellbeing of others.
Sunnyvale, CA (PRWEB) March 11, 2014
Pathways Hospice will offer training for those interested in becoming a hospice volunteer on Saturday, March 29, 2014 and Saturday, February 5, 2014 from 9:30 am to 4:30 pm. No previous hospice and health care experience is needed. Assignments are tailored to volunteers' geographic preferences and schedule.
Your time, talent, and experience can make a major difference to hospice patients and their families. Often, all it takes is a short visit, a listening ear, brief phone call, a simple walk, or reading a book to leave a lasting impression and lift the spirits of our patients and their families. In particular, Pathways Hospice needs volunteers from the communities of Los Altos, San Jose, Palo Alto, San Mateo, Redwood City, Sunnyvale, Menlo Park and Atherton.
Pathways Hospice volunteers are trained in listening techniques, family dynamics and communication skills to help support patients and their loved ones at the end of life. Pathways' training covers the basic principles of hospice, the special needs of patients and their families, spiritual care support, and understanding grief and loss. After completing the class, volunteers can provide respite for caregivers, offer companionship for the patient, run errands and help families and patients as needed.
Volunteers must be at least 18 years old and attend both sessions. Training will take place in Sunnyvale. Pre-registration is mandatory. For more information or to enroll, call Alejandra Ramos in our Sunnyvale offices at 1 (408) 773-4271, or email vservices(at)pathwayshealth(dot)org.
"Individuals from all backgrounds are encouraged to join our volunteer team," said Shaguna Wilkes, Director of Volunteer Services. "Volunteers often find that their greatest satisfaction comes from contributing to the well-being of others."
About Pathways Home Health & Hospice
Pathways Home Health & Hospice is a non-profit, community based organization which has served the Bay Area for over 36 years. Pathways was founded in 1977 by a remarkable group of Stanford physicians who saw the community's need for professional care at home. That first year Pathways served 12 patients. Pathways now serves over 5,000 families a year in five Bay Area counties.
Affiliated with El Camino and Sequoia Hospitals since 1986, Pathways Home Health & Hospice is accredited by The Joint Commission, and is a member of the Visiting Nurse Association of America, California Hospice & Palliative Care Association, and the California Association of Health Services at Home. Pathways Home Health & Hospice is a designated 2013 HomeCare Elite Agency for Quality Care.
For more information about Pathways services, grief workshops, volunteering, or making a donation in support of Pathways' families, call 1-888-755-7855 or visit http://www.pathwayshealth.org/.