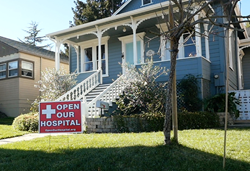 In my 35 years in the healthcare industry I have never seen such a powerful surge of community support for a facility to open: signs on every lawn, posters and hundreds of conversations have been going on in this town. - Raymond Hino, CEO, SWMC
Sebastopol, CA (PRWEB) February 25, 2015
While an alarming trend of hospital closures continues across the country, a small hospital in Sebastopol, California is rallying to re-open thanks to unprecedented community support and an entrepreneurial strategy.
Founded in 1941, Palm Drive Hospital served the region for 73 years before it was closed in April 2014 due to ongoing financial problems, joining more than 40 hospital closures in the U.S. since 2010.
However, the community served by the hospital has rallied, led by a devoted Foundation, and momentum is building to reach a target opening date of April 27, 2015. The hospital will be re-opened by a completely new organization, Sonoma West Medical Center. Sonoma West Medical Center brings a new seasoned leadership team which is guided by a Medical Center Board consisting of successful community and business leaders.
What Makes this Effort Unique
Re-opening a closed hospital has not been successfully achieved before, however unprecedented community support and an entrepreneurial approach have provided the energy, funding and financial viability that have led to the momentum to make this project possible.
Unprecedented Community Support
Not long after Palm Drive Hospital's closure, support from the community to re-open the hospital was impossible to ignore as evidenced by the hundreds of bright red "Open Our Hospital" signs throughout the community in countless front yards and businesses. Sonoma West Medical Center CEO Raymond Hino says, "In my 35 years in the healthcare industry I have never seen such a powerful surge of community support for a facility to open: signs on every lawn, posters and hundreds of conversations have been going on in this town. We are here to serve these community members and safeguard their well-being – our goal is to work with the community to fulfill their needs and work well within the fabric of this area." In addition to the visual and vocal support, more than $4 million has been committed to the Sonoma West Medical Foundation to help with the re-opening.
An Entrepreneurial Approach
When Palm Drive Hospital closed, those at the heart of the effort to re-open the hospital recognized that they would need a new business model to not just re-open the hospital but to ensure viability into the future.
This entrepreneurial approach focused on opportunities for cost savings and generating revenue.
On the revenue generation side, Sonoma West Medical Center includes:
1) No Wait ER. A re-opened ER that implements a proven 'No Wait' model that strives for '5 minutes from door to doctor.' This service is expected to increase volume not just from the prior service area, but also to attract a new population from nearby communities. Prior market share was estimated at 20% of the service area and financial viability can be achieved with a 3% increase or about 1800 new patients.
2) Specialized Institutes. In one of the more innovative approaches, Sonoma West will implement a program of bringing specialized institutes to the area. In this business model, the Medical Center will provide all business support to the medical providers at these institutes, including marketing, administration, billing and collections under a management services organization model. This model:

improves the specialized services available in the region
provides new revenue streams to the Medical Center
allows the physician specialists to focus on patient care
The initial institutes will include the following services which are expected to both serve the original service area as well as draw patients from throughout Sonoma County and beyond:

Orthopaedics Institute
Urology Institute
Neurology Institute
Neurosurgery Institute
Where Palm Drive Hospital was poorly marketed, Sonoma West Medical Center is investing in a solid marketing program to support drawing patients from the existing service area and expanded target areas for the No Wait ER and specialized services available through the Institutes.
The re-opening will bring approximately 180 jobs to Sebastopol making it the largest employer in the area. The facility will also be an economic driver for the entire Sonoma County.
Why is the Reopening of the Hospital So Important
Studies have shown that when an Emergency Department closes, mortality rates at neighboring EDs increase due to the increase in volume which stretches capacity and the greater distance that patients have to travel.
With a solid plan for viability in place, the opening of Sonoma West Medical Center will add a critical balance of health care providers to Sonoma County, including providing essential close-to-home care to those in West Sonoma County.
For more information, contact Kurt Hoffmann at 707/849-0400.
Or visit http://www.SonomaWestHealth.org