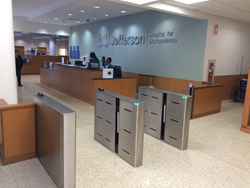 Fastlane Plus turnstiles have made a significant difference in our hospital security....we look forward to extending the benefits by adding lanes to additional buildings.
Austin, TX (PRWEB) February 10, 2015
Smarter Security, Inc., provider of premium, innovative entrance control and outdoor security solutions, today announced that Thomas Jefferson University Hospital recently ordered Fastlane Plus AS optical turnstiles and Fastlane Intelligate to secure its Gibbon Building lobbies. A prior Fastlane® installation proved the feasibility of controlling the traditionally open hospital lobby and prompted the organization to take further action. This latest Fastlane order is one of several the hospital placed in 2014 which, in total, will secure five different buildings on the hospital campus.
"Fastlane Plus turnstiles have made a significant difference in our hospital security," said Edward Schultz, Senior Project Manager/Facilities Design & Construction of Thomas Jefferson University Hospital. "The turnstiles allow us to control access to our buildings resulting in a safer environment for our employees. Our staff is happy the buildings are now controlled, and we look forward to extending the benefits by adding lanes to additional buildings."
Nine lanes of Fastlane Plus AS from Smarter Security will soon be installed by Siemens Building Technologies in sets of three to protect the three public entrances to the Gibbon Building. Doctors and staff enter through the lobby turnstiles or through access-controlled, private doors, while all approved visitors are issued barcode badges that are read by the unique FastScan™ system integrated in the lanes. An unauthorized entrance is alarmed and the intruder is quickly confronted by lobby security staff. Intelligate will be installed with each lane set and this wider access gate with tailgate detection will allow passage for stretchers and bariatric wheelchairs. In total, eighteen lanes of Fastlane Plus will protect Thomas Jefferson University Hospital buildings.
"A few years ago, we worked with a security consultant who specified us for a project at Thomas Jefferson University," said Jeff Brown, CEO of Smarter Security. "We are thrilled that the success with those early installations at the university turned into this fantastic relationship with the co-located hospital system. Big-city hospitals face unique challenges and with Fastlane entry control they can reduce many day-to-day risks as well as deter more extreme threats such as the tragic, targeted shootings at hospitals in El Paso and Boston last month. This new accountability contributes to the protection of lives as well as the hospital's bottom line."
"I've worked with Smarter Security on all these projects in Philadelphia, and their people really get it. They are friendly and responsive when I need a quote or any support," said Brian Drea, Account Executive for Siemens Building Technologies, the systems integrator for Thomas Jefferson University Hospital. "Fastlane optical turnstiles are distinctive because they look great and are highly reliable. I also appreciate Fastlane's broad selection that helps me serve a variety of customers."
Fastlane Plus AS is an optical turnstile from Smarter Security that has barrier arms to deter unwanted entry. The model is unique in the Fastlane brand in that the barriers are positioned off-center; the longer end of the pedestal preceding the barrier allows the turnstile to be used in a "normally open" mode where the barriers are retracted and rise to block the path when a person enters the lane without authorization. No matter the barrier position, advanced Fastlane optical technology alarms intruders and tailgaters who fail to present a credential. Intelligate is an access gate nearly forty inches wide and, unlike other such gates, accurately alarms tailgaters by using the same Fastlane technology. FastScan is a factory-installed, fully integrated proximity and barcode reader solution for Fastlane turnstiles. It allows visitors to seamlessly integrate into the controlled entry process used by employees.
About Smarter Security, Inc.
Smarter Security provides premium and innovative entrance control and outdoor security solutions to help organizations protect their people and assets in a world of ever-present threats. Since 1992, Smarter Security has offered Fastlane turnstiles, the most elegant and intelligent optical turnstiles available, which protect thousands of commercial and governmental lobbies on six continents. Smarter Security also offers perimeter intrusion detection systems, including SmarterFence, a fiber optic fence-mounted sensor. For more information, please visit http://www.smartersecurity.com.
Fastlane is a registered trademark of Integrated Design Limited.