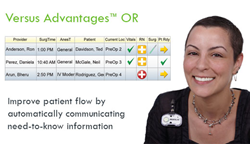 "What Josie is doing with Versus is truly innovative. A nurse or provider can glance at one screen and understand immediately where patients are on their clinical care pathway. This is an amazing patient-centric initiative."
Traverse City, MI (PRWEB) March 10, 2016
Versus Technology, Inc., in cooperation with Ronco Specialized Systems, announces the successful go-live in January of the real-time locating system (RTLS) at Memorial Sloan Kettering's Josie Robertson Surgery Center (JRSC) in New York, New York.
Memorial Sloan Kettering, a worldwide leader in the treatment of cancer, opened JRSC on January 5. It is the first-of-its-kind 16-floor freestanding short-stay surgical facility for cancer patients. It's also the first facility to use RTLS in several innovative ways to support patient outcomes.
As with many Versus customers and other Memorial Sloan Kettering (MSK) facilities, Versus helps JRSC manage a busy census of 40-50 patient cases per day. Versus Advantages™ OR closely monitors patient flow through 12 operating rooms and over 40 perioperative beds. The system also integrates 30 points of data from six ancillary systems, including Epic and Allscripts. Thirty-nine Glance-and-Go™ electronic whiteboards throughout the facility automatically:

Display past, present and future surgery schedules to improve visibility to all staff
Communicate a patient's wait or alone time to proactively enhance the patient experience
Monitor OR and bed availability to assist with dynamic room assignment
Deliver alerts when rooms are ready for turnover, improving overall utilization of valuable space
Display name and role as staff members enter or exit a room to put patients at ease
Three additional solutions are the first of their kind for an RTLS implementation:
Bi-directional integration with Epic OpTime to automate documentation and reduce data entry
Versus developed the first-ever, to our knowledge, bi-directional RTLS integration with Epic OpTime to automatically feed case start and stop times to the EMR. This frees staff from manual data entry and increases the accuracy and reliability of EMR data.
Visualization of patient progress on the clinical care pathway using data from Epic & Allscripts
In cooperation with JRSC, Versus developed a PostOp Summary View that details patient progress on their clinical care pathway. The view displays data from Versus, Epic and Allscripts to provide visual alerts regarding the care milestones each post-operative patient must meet before discharge. For example, a nurse or provider can tell at a glance if the patient's goals for well-being, activity, etc. are being met and prioritize care appropriately. When a patient has met all their goals, the system indicates that the patient is ready for discharge, so preparations can be made quickly.
Estimation of patient walking distances to document post-operative ambulation
As part of the care pathway, patients are required to ambulate after surgery. Using location data from the RTLS, Versus provides JRSC with an ambulation estimation of how far the patient has walked, helping to ensure each patient meets his or her goal.
"What Josie Robertson is doing with Versus is truly innovative," says Tina Soyring, RN, BSN, the Versus Clinical Solutions Consultant who worked on the JRSC implementation. "A nurse or provider can glance at one screen and understand immediately where patients are on their clinical care pathway. This is an amazing patient-centric initiative that helps them recover from surgery as soon as possible."
To learn more about Versus Advantages™ RTLS patient flow systems and receive a live demonstration, visit the Innovation Experience Center at the MGMA/AMA Collaborate in Practice Conference. Or, download our educational white paper, 14 Ways Versus Drives Improvement in Healthcare Operations.
About Ronco Specialized Systems
Ronco Specialized Systems, Inc. is a technology systems integrator that provides healthcare facilities the services to better connect the healthcare providers with patients. Over 500+ healthcare facilities have come to rely on Ronco's professional, consulting and 24 x 7 support services. For 50 years, Ronco has supported clients throughout New York, North Carolina, South Carolina and Vermont. To learn more visit ronco.net.
About Versus Technology, Inc.
Established in 1988, Versus Technology, Inc. specializes in Real-time Locating Systems (RTLS) for healthcare. Used by more than 800 hospitals for enterprise patient tracking, bed management, asset tracking, and nurse call automation, Versus improves patient flow and documentation of caregiver and patient interactions, while enhancing communication and efficiency. The Versus infrared (IR), Active RFID and Wi-Fi solution is responsible for enterprise visibility, clinical-grade location and automation at hospitals, clinics, surgery centers and senior care facilities worldwide. To learn more about Versus Technology, Inc., our technology and client successes, visit versustech.com.
Safe Harbor Provision
This release may include forward-looking statements which "bespeak caution," and which are subject to risks and uncertainties that could cause actual results to differ materially from the forward-looking statements. The statements are made only as of the date of this release, and the Company undertakes no obligation to update them to reflect subsequent events or circumstances.
###
Media Contact:
Versus Technology, Inc.
Jeanne Ehinger
Marketing Communications Manager
877.983.7787
jeannee(at)versustech.com
Investor/Analyst Contact:
Versus Technology, Inc.
Joseph Winowiecki
Chief Financial Officer
231.946.5868
joew(at)versustech.com