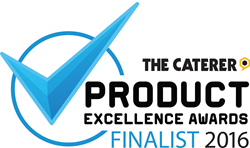 Having already won the Technology Innovation Award at Hotelympia and been shortlisted at the 2016 Digital Vision Awards (DiVAs), Wi-Q is now a contender for the Technology category of The Caterer's Product Excellence Awards
London, UK (PRWEB UK) 4 October 2016
Cloud-based mobile ordering software company Wi-Q has quickly gained the attention of the hospitality sector for its revolutionary HTML technology that doesn't rely on customers having to download an App.
In today's fast-paced society, mobile ordering has become increasingly popular with restauranteurs and their customers alike, conveniently placing menu, ordering and payment capability in the consumer's hands. However, until now, customers have traditionally been expected to download an app, which involves signing up and ensuring they have enough storage space on their mobile phone.
Crucially, Wi-Q's state-of-the-art mobile ordering solution is instantly accessed via internet connection on any mobile device (including smartphones, tablets and laptops), making it quick and easy for customers to access and a more profitable customer engagement tool for business owners.
Having already won the Technology Innovation Award at Hotelympia earlier this year and announced a finalist at the Digital Vision Awards (DiVAs), Wi-Q is celebrating further recognition as a shortlisted contender for the Technology category of The Caterer's Product Excellence Awards.
Introduced to the hospitality sector just last year, Wi-Q has already been implemented in venues across the world. Features of the software include the ability to clearly display allergy and nutritional information, multiple language options, upsell opportunities and more. Additionally, Wi-Q can be integrated into existing any website, EPoS system or App venues may already have.
Graham Cornhill, CEO of Wi-Q, said: "As a finalist for the Product Excellence Awards, we're delighted that our technology has been recognised once again as industry leading. We've worked extensively with the hospitality sector to develop innovative and future-proof technology – and we have had such a brilliant response, which only confirms the need for a solution that enables mobile ordering to move forward with the times."
The Product Excellence Awards shortlist was decided following debates and testing of hundreds of food and drink products and equipment entries. Finalists have been commended for showing an "extraordinary amount of creativity, innovation, responsibility and ingenuity" available within the sector. Winners will be announced on 1 December at Westminster Kingsway College, London.
More information on the Product Excellence Awards can be found on The Caterer website