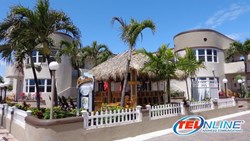 "We are pleased with the tailored telecommunications solution TelOnline has provided for us," stated hotel manager Adriana Malaga. "It helps guest stay connected with their loved one internationally, especially to Canada and Europe."
Miramar, FL (PRWEB) September 30, 2013
Caribbean Resort, a leading hospitality company that offers newly renovated studios and one bedroom suites with all the modern comforts, announced that it contracted TelOnline, leading telecommunications solution company, for a complete customized hospitality telecommunications solution that includes integration between Altai Super WiFi, Xorcom complete IP-PBX and IP phones.
The Xorcom complete IP-PBX solution saves on inter-company communications and improves efficiencies by integrating with the business' data network. Caribbean Resort is able to increase its efficiency, productivity and profits by:

Simple Management – Desktop call management, visual voicemail, browser-base administrator. It helps identify the caller and route the call to the appropriate person.
Efficient Communications – Unified messaging, presence management, conference bridges
Customer Service Aids – Graphic call reporting, unlimited auto attendants
Caribbean Resort needed VoIP phones that were rich in features, but also had a friendly user-interface and superb voice quality. TelOnline recommended:
This customized solution provided by TelOnline also includes Altai A2 Series, which provides a reliable wireless broadband network to the end-user. It is a Wi-Fi solutions designed to increase system capacity, extend coverage, fill-in areas of low or blocked signals caused by obstructions and bridge wirelessly to remote site.
It also includes the Cisco SF300-48, provides a reliable foundation for Caribbean Resorts business network. Employees can connect with each other and with the servers, printers and other devices. It protects sensitive information with its secure wireless connectivity to employees and guest in a variety of settings such as: hotel rooms, lobbies and other open areas to nonemployee users.
"We are pleased with the tailored telecommunications solution TelOnline has provided for us," stated hotel manager Adriana Malaga. "It helps guest stay connected with their loved one internationally, especially to Canada and Europe."
About Caribbean Resort
Caribbean Resort is a boutique hotel located in Hollywood Beach, Florida. It offers newly renovated Studios and One Bedroom Suites with all the modern comforts featuring luxurious kitchens adorned with custom wooden cabinetry and granite counter-tops, tiled bathrooms and showers, wall-mounted flat screen televisions and complimentary Wi-Fi Internet. http://www.mycaribbeanresort.com
About TelOnline
TelOnline is a company that offers and consults specialized solutions in telephony. The tailored solutions include VoIP telephony, IP-PBX, call centers, automatic dialers, call recording systems, cloud telephony services, embedded software development for telephony and integration, video conference and more. TelOnline is a selected partner of Digium, Asterisk makers, Oaisys, as well as numerous strategic business partner alliances within the industry. TelOnline is committed to providing the best products and services to markets in the United States, Caribbean and Latin America. Our team is highly experienced in commercial, development and support engineers. If you would like more information about TelOnline, please visit http://www.Telonline.com or call USA +1(954)894-6181 or call international +57(1)325-9832.
###