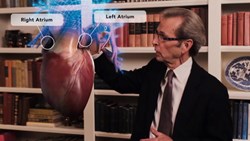 To attract patients in your area using YouTube, include keywords in your videos' title, description, and tags related to location, medical specialty, disease state, tests, treatments, etc.
Atlanta, GA (PRWEB) September 17, 2013
The internet has transformed healthcare into a consumer-driven market, with patients becoming active decision-makers in choosing hospitals. Nucleus Medical Media created the tips below to help hospitals reach new patients with videos that positively affect patients' health behavior.
1. Create Health Information Videos, Not Commercials
Many hospitals create videos promoting their physicians and facilities, post them on YouTube, and are surprised to see that few people watch them. Why doesn't this tactic work?
A study of over 600 hospital YouTube channels published in a 2013 edition of the "Journal of Communication in Healthcare" reveals health information videos are by far more popular than promotional videos. The author, Dr. Edgar Huang of Indiana University, states: "to attract traffic, hospitals should shift their foci to better serving their users by altruistically providing more videos that pertain to users' interests" which includes, primarily, videos on patient education, surgical procedures, and public announcements.
Bottom line: You will reach more patients if you give them the information they're searching for.
2. Include Animations in Your Videos
What works for Hollywood can work for hospitals. Look at some hospital YouTube channels and view the videos based on popularity. What you should notice are the videos with 3D animations rise to the top of the list.
Regardless of the reasons--whether it's the simplified information, the high production values, the lack of "gore," or just the cool factor--patients enjoy watching 3D medical animations far more than live videos depicting the same subjects.
This type of content is not as expensive as it was 5 years ago, and you can license stock medical animations for a relatively low annual fee from companies like Nucleus Medical Media.
3. Sync Your Efforts: Broadcast & Cross-Promote
It's important to make certain that your content is at the top of the health information searches for patients in your area.
The easiest way to improve search engine results is to coordinate digital marketing among various social media sites. Post a video on your hospital YouTube channel. Link to it on Facebook, Twitter, and LinkedIn. Write a press release about your hospital's latest educational video, including a link. Embed the video into your website and blog posts. You'll get the best response in the first week, but patients can refer back to your video any time they have questions about a condition or procedure.
4. Optimize, Evaluate, & Adjust
To attract patients in your area using YouTube, include keywords in your videos' title, description, and tags related to location, medical specialty, disease state, tests, treatments, etc. Use terms a patient would search for rather than technical terms, like "flu" not "influenza."
Never assume you can just "set it and forget it" when it comes to online video. Initial views will rise and then taper off. Afterward, use analytics to evaluate what helped your video perform well so you can replicate it in future campaigns. YouTube Analytics lets you track incoming traffic sources, demographic data, and geographic locations down to the city level. With this information, you can make intelligent choices about how to promote your videos.
For more information on taking your hospital marketing videos to the next level, contact Kim Carbonara at kcarbonara(at)nucleusinc(dot)com.
---
Founded in 1997, Nucleus Medical Media, Inc. is an award-winning creator of medical illustrations, medical animations, and interactive multimedia for the publishing, legal, healthcare, entertainment, pharmaceutical, medical device, and academic markets. Nucleus's clients and partners include WebMD, McGraw-Hill, Dr. Oz, EBSCO Publishing, and thousands of other businesses in new and traditional media.